Towing Industry Leader Earns Kentucky Highway Safety Award
Lee Roberts of Roberts Heavy Duty Towing & Recovery, Lexington, Ky., was presented a Kentucky Highway Safety award for his outstanding safety efforts.
Press Release
-
Mar 29, 2016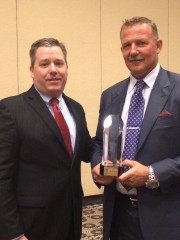 Winter Springs, FL, March 29, 2016 (Newswire.com) - The Kentucky Office of Highway Safety awarded towing company owner Lee Roberts of Roberts Heavy Duty Towing & Recovery, Lexington, Ky., recognition for his leadership and accomplishments in the field, the first time a safety award goes to a towing company.
"Lee Roberts has been a positive force for honesty, dedication, and professionalism in the towing and recovery business for more than 30 years," wrote Tony Young, highway safety specialist at the Federal Highway and Safety Administration who nominated Lee for the coveted prize.  "During his career he has worked and continues to work to be a leader who has made a significant contribution to highway safety and traffic incident management across Kentucky."
Young and Roberts have worked together throughout the years.  He singled out Roberts, born in England, for being an American success story, as well as for donating time and equipment to the State Fire School to help train firefighters; being on-call 24/7 to assist the Lexington Fire and Police departments; and for implementing company procedures to enhance the safety of his customers and crew while on assignment.
"I was floored that I even got nominated," commented Roberts, who accepted the award at the Kentucky Lifesavers Conference in Louisville, which focuses on highway safety.  "And to actually get it, it's quite a shock. If it weren't for the good people who work under me I wouldn't have got it. It's not just me."
Roberts also was proud to shine a positive spotlight on the towing industry. "I want our industry to get some recognition," said Roberts, who has been a towing company owner for over 17 years and serves on the board of the International Towing and Recovery Hall of Fame and Museum, based in Chattanooga, Tenn.
Always watching out for the towing industry, Roberts earlier this year helped towing competitor Dewayne "Slim" Hogan get back on his feet after Hogan lost his business in the Blue Grass Stockyards fire in Lexington. Roberts loaned Hogan a tow truck and provided him workshop space so he could continue operating.
Contact Lee Roberts, 859-797-1779, at LRoberts@rhdtowing.com for interviews.
Tow Times is the leading magazine in the U.S. towing and recovery industry.
Photo caption A: Bill Bell (l), highway safety specialist at the Kentucky Transportation Cabinet's Office of Highway Safety, hands Lee Roberts of Roberts Heavy Duty Towing & Recovery a state award for outstanding highway safety efforts. / photo courtesy of KHS
 Photo caption B: Lee Robert, president-owner of Roberts Heavy Duty Towing & Recovery in Lexington, shows off his Kentucky Highway Safety Award in front of one of his heavy-duty tow trucks. 
---
Categories: Business News, Transportation, Trucking
Tags: towing and recovery, transportation, trucking
---