Tower Leases Celebrates 14 Successful Years Negotiating Better Rates and Buyouts for Landowners
Press Release
-
updated: Aug 31, 2018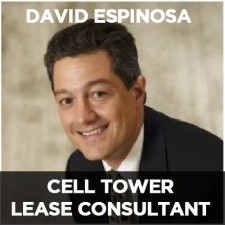 ATLANTA, August 31, 2018 (Newswire.com) - Tower Leases announces their 14-year anniversary in providing expert cell tower lease consulting to both private and public landowners. The company, owned by cell tower expert David Espinosa, has become a leader in the field over the years. They provide a much-needed service that helps to ensure that landowners get a fair deal when it comes to negotiating their cell tower lease. With the rise in the usage of cellphones, tower leases have become an important part of every communication company's goals. Without proper consultation, most landowners leave money on the table.
"Landowners do not know how to negotiate a fair market rate on a cell tower lease," explains David Espinosa, president of TowerLeases.com. "That's where I come in. I know what a fair market rate deal is and I help to balance out the business arrangement so that there is someone looking out for the best interest of the property owner."
Landowners often find themselves in contracts not knowing if they got a fair deal or not. Over the last 14 years, Tower Leases has helped to change the playing field, so that the cell phone companies don't have all the advantage. When there's no expert helping to negotiate the terms on behalf of the landowner, they are more likely to get into long-term contracts that were unfair and did not maximize their revenue.
Espinosa helps landowners with their cell tower by starting out with a free 30-minute consultation. With that phone call, he is able to get an idea of the situation the landowner is in with their current contract, the one they are negotiating or if they have been offered a buyout. In order to help negotiate the best possible rates for the landowner, he takes numerous factors into account that are often overlooked by those who are not experts. These issues include how cell tower antennas will impact the property values, what the current going rates are, zoning and ordinance laws, competing structures and geographic location. He also looks for any red-flag issues that may impact the fee or contract terms, as well as helping to provide advice regarding the additional revenue. The free 30-minute cell tower lease consultation can be initiated from the website at https://www.towerleases.com/ or by calling (866) 746-8907.
"Everyone with cell tower leases should take the time to do the free consultation and see if they could be doing more to maximize their revenue," added Espinosa. "We know that the cell phone companies are making billions, but they can't do it without the landowners providing a place for the towers. It only makes sense to have an expert help negotiate the contract so that you get what is fair and what you deserve."
Over the last 14 years, Espinosa has built a great reputation for helping landowners with their cell tower leases. He has worked with private landowners, public landowners, government bodies and more. He looks forward to many more years ahead in helping landowners to negotiate the best cell tower leases and to negotiate better rates and buyouts.
About TowerLeases.com
Located in the Atlanta area, TowerLeases.com serves the entire country with cell tower lease consultation and negotiation services. Their mission is to help protect those leasing their land for cell phone towers. They offer a free consultation to see if their services would be a good fit for those already leasing their land to cell tower companies. For more information on the company, visit their site at www.TowerLeases.com. For a free 30-minute consultation regarding cell phone tower leasing, call (866) 746-8907.​
Source: TowerLeases.com
Share:
---
Categories: Business News
Tags: cell tower lease, cell tower lease agreement, cell tower lease rates
---