​Toweller's Towing Service Expands Fleet
Now Largest Towing Service in Florida
Press Release
-
updated: Apr 4, 2017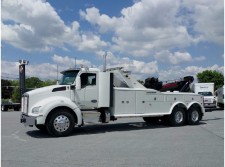 Sarasota, FL, April 4, 2017 (Newswire.com) - Toweller's Towing Service, LLC is proud to announce that they have recently added two Kenworth T880's to their fleet. In so doing, they have become the largest towing company in the Sarasota, FL area. Their quick growth has been enabled due to the company's strong focus on customer service, rapid response time, and more.
A representative from Toweller's Towing Service, LLC says: "We have only been in business for a reasonably short period of time, and the towing business is hugely competitive. So, to set ourselves apart from the others, we have focused on delivering the best possible customer service from day one. Thanks to this emphasis, we have now been able to significantly expand our fleet, and the cumulative effective of this is that we can serve our customers even better."
The Kenworth T880 is said to be the gold standard in terms of trucks. It is versatile and dependable, and capable of managing even the toughest jobs. Kenworth is particularly proud of the operating economy, stamina, and strength of their latest model. They are also so sure of the fact that the machine will perform properly every time, that they have offered the PremierCare Gold Network.
The Toweller's representative adds: "There are many reasons as to why we chose the T880, but the PremierCare Gold Network membership is one of the most important ones. It guarantees us that every truck is delivered with maximum productivity and that, if something goes go wrong, we are fully covered for this. Again, this is part of our commitment to only delivering the best of the best for all of our clients."
The T880s are also known for their advanced manufacturing processes and innovative technologies. Put together, this delivers a lightweight design with fantastic fuel efficiency. The cost of ownership is therefore significantly reduced, and Toweller's Towing Service sends these savings straight back to customers. The representative adds: "Now that we have these fantastic trucks at our disposal, we can start reducing prices as well. For many, it seems counter-intuitive to drop prices just after a significant financial investment, but for us, it makes complete sense."
Sarasota is home to around 53,326 people. It will come as no surprise, therefore, that it is also home to a huge number of towing companies. This is why it has been so important from the word go for Toweller's Towing Service to set itself apart, as the competition is incredibly strong. It seems that their efforts have paid off. One of their drivers says: "Don't get me wrong, we've all had to pay for it with our blood, sweat, and tears. The hours have been grueling and I have even lost a lot of weight because of all the work we have done. However, it is paying off now, and to be able to say that I played a part in that is really very important."
Interestingly, many people would like to start their own towing business. It is a relatively easy industry to start a business in, requiring little in terms of training and qualifications. That said, it is necessary to have towing equipment available at all times, and that this is the right type of equipment, or the business won't take off. The company representative adds: "Running a successful towing company is down to a whole lot more than having the right equipment. Competition is so strong, particularly in the Sarasota area, that it is vital to come up with some idea to stand out from the crowd.
For Toweller's Towing Service, that stand out from the crowd idea came in not just in their professional attitude, dedication, and fantastic customer service, but also in the form of the new fleet. The Toweller's driver added: "We've been saying for a while now that offering unparalleled experience is pretty much worthless if there is so much as one customer who rings and gets told that they will have to wait. This is why we knew that our first major investment had to be in a bigger fleet."
To date, customers have been very pleased with the services they have received from Toweller's Towing Service. The new Kenworth T880s have already been put to good use, and they have proven to be just as high of quality as what you would expect from such a prominent brand. The company looks forward to many more years of sustainable growth by being a part of the Sarasota community, and they hope to be able to further expand their reach.
Source: Toweller's Towing
Share:
---
Categories: Automotive, Fleet, Emergency Services
Tags: Florida Towing, Sarasota Towing, Toweller's Towing
---