Top Board Certified Dermatologist, Jason Emer, MD, Debuts Emerage Medical in West Hollywood, CA
The Sunset Strip Welcomes its First Comprehensive/Surgical Facility Boasting 8,000 Sq. Feet of Cosmetic Innovation With Panoramic Views of the City
Press Release
-
updated: Jun 11, 2019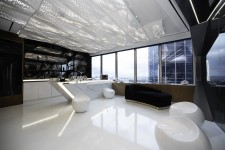 WEST HOLLYWOOD, Calif., June 11, 2019 (Newswire.com) - Dr. Jason Emer, L.A.'s top board-certified dermatologist, unveils a stratosphere of cosmetic innovation inside his new comprehensive medical/surgical facility at 9201 Sunset Blvd in West Hollywood; Emerage Medical.
With design concepts impeccably executed by EXOD-ARCH in collaboration with Ben Ballantine Architects Studios, the futuristic facility boasts 8,000 square-feet of modern luxury including 2 fully-automated aesthetician rooms, 2 procedure suites, 5 spacious laser and cosmetic treatment rooms, and numerous private workspaces with magnificent views of the city. A state-of-the-art operating center is currently under construction which will accommodate surgical procedures as well as in-house aftercare. Exclusively equipped with the most sophisticated technologies in the fields of Cosmetic Dermatology and Plastic Surgery, Emerage Medical houses 80+ cutting-edge lasers and minimally-invasive devices for aging, scarring, pigmentation, burns and lifelong preventative rejuvenation.
One of the reasons Emerage Medical is so special is that it provides comprehensive aesthetic services to cover every possible patient need. Dr. Emer, as a global expert in liposculpture and high-definition body contouring, needed equally skilled plastic surgery experts to address surgical needs for his patients' bodies, breasts and faces.
For both female and male breast and body surgery, world-renowned board-certified plastic surgeon Robert Cohen, MD, FACS was recruited to the practice. With over 15 years of experience as an innovator, thought leader, and educator in plastic surgery, Dr. Cohen represented the perfect complement to Dr. Emers specialized skill-set. As Dr. Emer is able to create muscular definition and smoothness of the skin with modalities such as liposuction and J-plasma or InMode BodyTite, Dr. Cohen is able to achieve beautiful, natural results by tightening loose tissues, enhancing breasts, correcting previously botched surgery, and performing any aesthetic procedure requiring tissue removal, adjustment or rearrangement for the body and breasts.
For facial lifting and nasal sculpting and contouring, double board certified facial plastic surgeon, Farhard Ardesh, MD, FACS was selected due to his skill in achieving consistently refined and aesthetically stunning results. Once again, a particular focus and skill in revision work by Dr. Ardesh was essential, as many patients find Emerage Medical to be the best and final stop for correcting previously botched surgery. Revision surgery is the most challenging branch of aesthetic plastic surgery and absolutely requires the surgical skills of a true expert. By having Dr. Emer, Dr. Cohen, and Dr. Ardesh simultaneously available, a truly bespoke and comprehensive care plan is not just possible, it is the practice standard.
In the Liquid Lounge, patients will enjoy a wide array of exclusive amenities and spa treatments including IV hydration therapy, massage, customized facials and masks, dermal infusion, micro-ampule infusion treatments and more.
Staying ahead of the digital curve on an ever-changing media landscape, Emerage Medical's on-site BA studio allows for informative content to be professionally captured and curated in real time. Patients have access to procedures and testimonials which can be streamed live or on-demand via interactive screens in every room throughout the clinic.
Gleaming with opulence, the Emerage Beauty Bar features interactive, touch-screen displays and over 170 medical-grade products expertly matched to skin type.
Respected worldwide for their impeccable precision and bold techniques, Dr. Jason Emer, Dr. Robert Cohen and Dr. Farhad Ardeshirpour have pioneered some of Hollywood's most sought-after procedures and cater to an elite clientele. Dr. Emer's specialties include Hi-Def Liposuction and body contouring, facial sculpting, and feature enhancement with fillers and Botox and laser dermatology for scarring, pigmentation, rejuvenation and anti-aging wrinkle or sun damage. Dr. Cohen's specialties include aesthetic breast surgery of every type, complex revision procedures, "Mommy Makeovers," abdominoplasty surgery, male chest defining surgery, arm and thigh contouring procedures and labia reductions. Dr. Ardesh's specialties include facial rejuvenation such as face lifts, neck lifts, brow lifts and eyelid surgeries, as well as rhinoplasty (nasal surgery), ear reconstructions and chin and jawline augmentations with customized implants.
"I am elated to introduce my patients to the first-ever cosmetic oasis featuring the most leading-edge technologies and comprehensive treatment modalities in the fields of cosmetic dermatology and plastic surgery. My vision for Emerage Medical has been actualized here in the aesthetic capital of the world, Los Angeles CA."
"I have been thrilled to combine my innovative surgical techniques with Dr. Emer's incredibly advanced liposculpting and skin tightening skills," states Dr. Cohen. "Both Dr. Emer and I represent the cutting edge in each of our respective fields, however, when we work together, we are able to achieve next-level results that are even better than what either of us could accomplish alone. Our unique collaboration has led to some truly spectacular transformations and extremely happy patients!"
Emerage Medical is located on the prestigious corner of Sunset and Doheny:
9201 Sunset Blvd suite 510, West Hollywood, CA 90069
Source: Emerage Medical
Share:
---
Categories: Beauty and Personal Care
Tags: beauty, board certified, Body Contouring, Dermatology, Dr. Jason Emer, Emerage Medical, Face Lift, Facial Sculpting, Liposuction, Plastic Surgery, rhinoplasty
---