Tonkean Survey Reveals Enterprises Lack Resources to Complete Automation Projects
Press Release
•
updated: Sep 21, 2021
IT leaders say most automation projects require multi-month turnaround time and still require custom code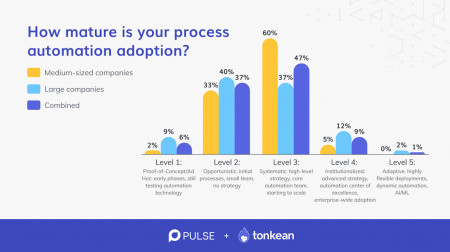 SAN FRANCISCO, September 21, 2021 (Newswire.com) - Tonkean, the Operating System for Business Operations, today released the results of a new survey, performed in collaboration with Pulse Q&A, on the state of business process automation, which showed a strong desire among IT leaders to empower their teams with automation but currently lack the resources to do so.
The survey, conducted in June and July of 2021, asked 100 technology decision-makers who use automation in their organization to share their priorities and challenges around automating business processes. 45% of these respondents said their biggest challenge with automation initiatives was that business processes change too frequently and are therefore hard to maintain. 86% of respondents said that at least some custom code is still required when they need to complete an automation project.
As a result of these challenges, organizations struggle to finalize many automation projects: more than half (56%) of these companies say they can only accommodate single-digit automation projects across the whole company in a given year. Most projects take several months to complete; only 2% said the average turnaround time for an automation project is less than one month.
"Many enterprises today are looking to enter the next phases of their automation journey, but lack the technical resources to scale those efforts," said Sagi Eliyahu, CEO and Co-Founder at Tonkean. "This survey reveals the need for solutions that let IT empower business teams to build, compose and maintain their own automation projects without technical resources."
Tonkean has seen demand for its no-code process orchestration platform accelerate in recent months, as more enterprise teams seek to advance their automation efforts to improve business processes. Tonkean partnered with Pulse on this survey to better understand the scale of these challenges and priorities among an established community of IT leaders.
"The Pulse community is a private community of verified business and technology leaders, producing honest insights in a trusted, vendor-free platform," said Pulse CEO and co-founder Mayank Mehta. "Our community engages around hot topics in IT and survey results like these indicate the common priorities and challenges they share."
Other key findings included:
A plurality of IT leaders (42%) who say their top priority around automation is using it to handle dynamic or human-centric processes, instead of just automating disparate tasks.
Respondents were asked to rate the maturity level of their process automation on a 1-5 scale. Most respondents (60%) from mid-sized organizations rated themselves at level 3 "Systematic", while enterprises were split between levels 2 "Opportunistic" and 3, indicating that enterprise adoption is slightly less mature to date.
The top reasons that custom code is required on automation projects are to create custom integrations to systems (45%), or to extend the functionality of automation with custom logic or actions (29%).
While 56% of leaders said they could support fewer than 10 automation projects annually company-wide, the situation is even more bleak when breaking it down to individual teams, with 74% reporting that their specific team could support fewer than 10 automation projects per year.
Only 7% of respondents said their business teams are enabled to build most or all of their automated workflows today.
For the full results of the survey, visit the "Business Process Automation Challenges & Priorities" report page, or learn more at https://tonkean.com/.
About Tonkean
Tonkean is the OS for Business Operations, transforming operations teams from facilitators into makers with an enterprise-grade, no-code process orchestration platform. By abstracting the technical knowledge required to automate, monitor, and manage mission-critical business processes, while still maintaining compliance and security, Tonkean enables enterprises to accelerate operational velocity at scale. Founded in 2015, Tonkean is headquartered in San Francisco with R&D in Tel Aviv. To learn more, visit www.tonkean.com, or follow Tonkean on LinkedIn and Twitter.
Press Contact: press@tonkean.com
Source: Tonkean