Tobortec Launches Cellings, the Electrical Muscle Stimultaion Unisex Leggings on Kickstarter
Cellings is a pair of unisex leggings that assists with lower body muscle toning due to the electrical muscle stimulation pads and its special fabric.
Press Release
-
updated: Nov 4, 2020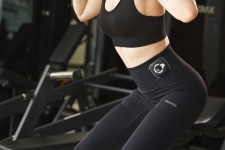 SEOUL, South Korea, November 4, 2020 (Newswire.com) - Tobortec has announced that their Kickstarter campaign for the company's newest product, Cellings, has launched on Nov. 2, 2020. The company has set its funding goal for $5,000 but is ideally looking to raise more than $100,000 in order to get the Cellings shipped worldwide.
As the number of individuals who exercise at home continues to be on the rise, the demand for products that can assist with maximizing the results of home workouts have also spiked. Taking this into consideration, Tobortec has used its in-house developed biotech to create a product that can satisfy this demand. 
Cellings is a pair of unisex leggings that assists with lower body muscle toning due to the electrical muscle stimulation (EMS) pads and its special fabric. EMS technology has traditionally been available only for high-performance athletes and physical therapists. However, with the release of Cellings, Tobortec is looking to bring the benefits of this technology into the hands of everyday consumers at an affordable cost.
The electrical muscle stimulation pads in Cellings can be used as a strength training tool when combined with regular physical exercise, as a form of rehabilitation for worn-out muscles, or even as a preventative measure against muscle injuries. The electrical impulses are generated by pads and the signals are delivered to the central nervous system, causing the muscles to rapidly contract and relax. Cellings users can customize the intensity levels starting from level 1 to level 15.
Comfort plays an important role when it comes to selecting a pair of leggings for workout sessions or even for casual everyday wear. Cellings is uniquely made from a combination of double sided nilon and spandex which makes it durable to all sorts of extreme body movement. The breathable fabric also quickly absorbs sweat and helps expel excess body heat.
Cellings is now available starting at $155 exclusively for its Kickstarter backers. Once the campaign closes on Dec. 3, 2020, this price will no longer be available. For more information please visit the Cellings Kickstarter page. Any editors, journalists, or social media influencers interested in reviewing Cellings are encouraged to submit an inquiry through the Kickstarter page.
Source: Tobortec
Share:
---
Categories: Entrepreneurship
Tags: biotech, cellings, cellings leggings, crowdfunding, entrepreneurship, heatlh tech, kickstarter, leggings
---