To Be Thrill X Judgment of Paris 'Dropped the Bomb' in NYFW
Asian rising designer Edison Lu is rocking the stage with his new collection in NYFW
Press Release
-
updated: Sep 13, 2017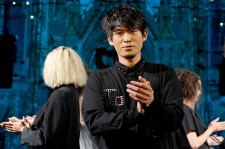 NEW YORK, New York, September 13, 2017 (Newswire.com) - With the high expectations of the NYFW, the big apple gathers a group of the most talented designers to show their pieces this season once again.
On Sept. 9, the third day into the official season, Asian designer Edison Lu will launch his collection in Angel Orensanz Center where Alexander McQueen first held his show in New York back in 1996. The production features the collaboration of To Be Thrill X Judgment Of Paris while setting the theme to an abstract idea of "Zhong."
As a designer but also a former celebrity stylist, Edison Lu mastered his own style with art and creative imagination while delivered a completely different point of view on life itself. With the idea of different aspect of life, Edison developed four collections of ready to wear clothing from "BIRTH," "IGNORANT," "EMPOWER" to "RELIEF." Edison Lu vividly expressed his creatively towards imaginations and his attitude toward fashion with his own understanding.
The pop brand To Be Thrill was started up by Edison Lu and the Taiwanese celebrity Junxiang He, and is featured in a New York streetwear style. Since launching the brand for a few months ago, it has already had an impact in the fashion industry. Ranking No.1 on FWO — while it first showed up during NYFW Menswear in 2018 — has caught many eyes on the brand and successfully attracted investors and large cloth production companies.
Although Junxiang He could not show up at the NYFW himself due to his shooting schedule, he brought other celebrities to show the love and the support for talented collection from To Be Thrill. As one of the co-founders of To Be Thrill, Junxiang He has been putting a lot of effort into it and showed his support in many ways. He came for the very first show of To Be Thrill in NYFW Menswear 2018 earlier this year as a special guest and has been successfully introduced the concept of the brand to the public.
40 sets of women's wear and seven sets of men's wear will be on the stage while over hundreds of press showing up at the venue. The popular beauty program "Queen" will come with the celebrity Feiyang Yang and their own production team broadcasting the entire show lives online. To Be Thrill is sponsored by the American local organic beauty brand Judgment of Paris and the collaboration brings more possibility of creativities in the future to come. From celebrity stylist to designer, and from beauty to fashion, To Be Thrill will set the future in all industries.
As a second timer for To Be Thrill for putting up a show, it has already showed its success from the impact on the industry, either from the concept of the brand, the talent of the designer or even the influences from the celebrities, To Be Thrill will not be a mediocre chic brand but will be impactful and define the millennial streetwear.
Press contact: info@fashionme.tv
Buyers contact: edbbgglu@gmail.com
Company website: http://www.thrillnyc.com
Source: To Be Thrill
Share:
---
Categories: Fashion and Apparel, Lifestyles
Tags: Edison Lu, Fashion Me USA, New York Fashion Week, To Be Thrill
---