TLS Holdings, Inc. (The Winning Seat®) Partners With United Way of Smith County
Press Release
•
updated: Apr 5, 2019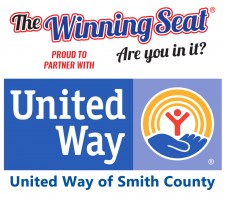 MINDEN, Nev., April 5, 2019 (Newswire.com) - TLS Holdings, Inc. (The Winning Seat®) and United Way of Smith County have created a new partnership to help improve the health and quality of life for communities and people in need. This innovative effort between the two parties, which has never been done before, will involve the development of a first-of-its-kind "Donation Engine" via The Winning Seat App. The platform, wherein users play a free live-action sweepstakes to win cash & prizes, will now give players everywhere the option to donate a percentage of their winnings to their local United Ways.
"We are very excited about this project. This new "Donation Engine" empowers our users to do good with their winnings. By presenting "Donate" as an additional option during prize redemption, users may be inspired to do just that. Sometimes, a charitable gift can be inspired by simply making somebody aware of a greater need." said Miles Johnson, Founder/President at TLS Holdings, Inc.
"We are honored to partner with The Winning Seat through this initiative," said John Berry, Director of Development at United Way of Smith County. "They truly care about the communities where their players live and prove it by providing them this opportunity to give back."
About United Way
United Way fights for the health, education and financial stability of every person in every community. Supported by 2.9 million volunteers, 8.3 million donors worldwide and $4.6 billion raised every year, United Way is the world's largest privately-funded nonprofit. Engaged in nearly 1,800 communities across more than 40 countries and territories worldwide, United Way creates sustainable solutions to the challenges facing communities. United Way partners include global, national and local businesses, nonprofits, government, civic and faith-based organizations, along with educators, labor leaders, health providers, senior citizens, students and more. For more information about United Way of Smith County, please visit www.uwsmithcounty.org.
About TLS Holdings, Inc.
TLS Holdings, Inc. is the parent company of The Winning Seat®. The Winning Seat® is the ONE AND ONLY Mobile Live-Action Sports Sweepstakes App where users PLAY FOR FREE to WIN CASH & PRIZES! The Winning Seat® offers its (Patented) LIVE-ACTION, IN-GAME FAN ENGAGEMENT OPPORTUNITIES to sponsors/advertisers, professional and collegiate teams and more so they may reach consumers with their brands message, products and offerings. The company celebrates its 5th year in business and is now positioned to expand rapidly across the United States. For more information about The Winning Seat®, please visit www.winningseat.com.
Source: TLS Holdings, Inc.