TLS Holdings, Inc. (The Winning Seat®) and Echo Daily, Inc. Have Signed an Exclusive Partnership Agreement
Press Release
•
updated: Aug 1, 2019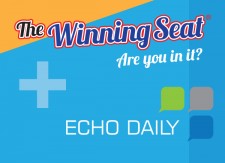 MINDEN, Nev., August 1, 2019 (Newswire.com) - TLS Holdings, Inc. (The Winning Seat®) and Echo Daily, Inc. have signed an exclusive Partnership Agreement. The agreement empowers the two parties to deliver each other's respective products and services, exclusively, to their current and future customer base.
"We are very happy to have finalized our search for a reputable and innovative partner in the payment processing space. As a natural extension to our business model, integrating leading-edge Merchant Services programs into our platform takes TLS revenue opportunities to the next level. The beautiful part; our customers can take advantage of specialized payment programs that not only save them money, but also offset the investment they make in advertising services with The Winning Seat. It's truly a win for all parties." said Miles Johnson, Founder/President at TLS Holdings, Inc.
"By delivering our customer base the ability to effectively market, via The Winning Seat's Live-Event Advertising Platform, we empower them to be even more successful at the Point-of-Sale. Combine that with smart payment solutions that truly build efficiencies and savings... it just makes sense," said Jared Hacker, CEO at Echo Daily, Inc.
About Echo Daily, Inc.
Echo Daily helps small to medium-sized businesses such as Retail Shops, Restaurants, Service Providers and Gyms run their BEST business using the latest in Point-of-Sale & Payment Solutions as well as Management & Marketing Software. From feature rich systems to simple & affordable, we have you covered. Echo Daily is comprised of Payment Technology Veterans. The overall goal as a company is to ensure that success is shared by its customers, its agents, its partners, and employees. With over 40 combined years of trusted service, Echo Daily knows what it takes to be successful at the Point-of-Sale. For more information about Echo Daily, please visit www.echodaily.com.
About TLS Holdings, Inc.
TLS Holdings, Inc. is the parent company of The Winning Seat®. The Winning Seat® is the ONE AND ONLY Mobile Live-Action Sports Sweepstakes App where users PLAY FOR FREE to WIN CASH & PRIZES! The Winning Seat® offers its (Patented) LIVE-ACTION, IN-GAME FAN ENGAGEMENT OPPORTUNITIES to sponsors/advertisers, professional and collegiate teams and more so they may reach consumers with their brands message, products and offerings. The company celebrates its 5th year in business and is now expanding rapidly across the United States. For more information about The Winning Seat®, please visit www.winningseat.com.
Media Contact:
Miles Johnson
Email: info@thewinningseat.com
Source: TLS Holdings, Inc.