Tips to Preserving the Environment This Earth Day From Annabelle Gurwitch on Tips on TV
Press Release
•
updated: Apr 20, 2018
Guru of Green Living Annabelle Gurwitch Explains the Importance of Recycling and Earth Day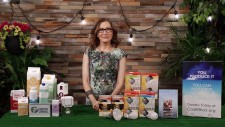 Atlanta, GA, April 20, 2018 (Newswire.com) - Earth Day 2018 may be more important this year than at any time in recent history. The first Earth Day was 48 years ago, and now it is a global event that involves over a billion people. Just in time for Earth Day on April 22, actress, writer and activist Annabelle Gurwitch shares valuable information about environmentally friendly products that are just hitting the market - including a national recycling program. Annabelle hopes to motivate occasional recyclers to become "everyday" recyclers and to provide an example of what their recyclables become. Annabelle was the former host of Planet Green's original series, WA$TED!, a unique show in which she would go through someone's trash and show all of the waste that had the potential for recycling.
HELPING THE PLANET BE GREEN ON EARTH DAY
Recycling is the easiest way to be green for Earth Day and really every day. A great place to start is by recycling food and beverage cartons. Cartons have expanded to so much more, besides the milk and juice that everyone grew up with. These environmentally friendly packages now contain products like soup, broth, waters, crackers, beans and even wine. The entire food and beverage carton are recyclable, including the cap. After consuming the product, empty any remaining contents and put it into a recycling container. Remember to never put recyclables in plastic bags, instead put them loosely in a container. Once recycled, cartons can be used to create new paper products, like tissues, paper towels and writing paper, as well as environmentally-friendly building materials. For more information, visit www.recyclecartons.com.
WAYS TO CONSERVE ENERGY
When conserving energy, that means using less of the natural resources that are used to create that energy. SYLVANIA LED light bulbs are a great option as they can last up to 22 years and offer energy savings of up to 90 percent, saving on electric bills. They use a fraction of the energy traditional light bulbs use, that means power plants can burn fewer fossil fuels and release less carbon dioxide which is better for the Earth. SYLVANIA LED light bulbs are made in the USA with United States and global parts by local factory workers in Pennsylvania and Kentucky. Allowing for conserving and supporting US workers. They can be bought at Walmart stores nationwide.
The new bulbs look like ones people are used to and the lighting quality is so much nicer. A traditional 60-watt A19 light bulb for regular lamps can be replaced by a SYLVANIA LED light bulb that uses around 7 watts. LEDVANCE, the company that makes these SYLVANIA light bulbs, is the ONLY one in the industry to have a significant LED portfolio like this in the United States. The company invested millions of dollars to upgrade its factories and workforce to keep and add around 220 local manufacturing jobs to produce these SYLVANIA light bulbs. For more information, visit www.sylvania.com.
WAYS THAT CLIMATE CHANGE IS AFFECTING EVERYDAY LIFE
One cannot talk about climate change without talking about carbon dioxide, or CO2, which is a naturally occurring gas. The extra CO2 produced by human activity in the atmosphere is causing the climate to change, which is why she is such a fan of Cool Effect, a non-profit that crowdfunds tax-deductible contributions from individuals that fund carbon reduction projects. Visit CoolEffect.org to see their projects in the US and around the world. One of the projects is Malawi Clean Cookstoves. For less than $10 a contribution will help fund the installation of clean cookstoves, which helps the schools to save money and the children to breath cleaner air, all while reducing the carbon going into the atmosphere.
www.tipsontv.com
https://www.youtube.com/watch?v=y1UZtf9ByYo
Contact: tipsontv@gmail.com
Source: Tips On TV
Related Media