TimeClick Hosts Live Webinar on TimeClick Mobile
Press Release
•
Dec 17, 2021
TimeClick's own Head of Customer Success leads a webinar on new features to make time tracking easier and more efficient than ever before. TimeClick's Bobby Gailey, Head of Customer Success, delves into the details surrounding TimeClick Mobile.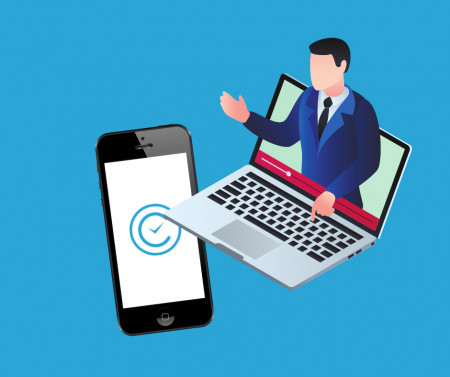 NORTH LOGAN, Utah, December 17, 2021 (Newswire.com) - As a relatively new feature in TimeClick's lineup of time tracking capabilities, TimeClick Mobile seeks to take time tracking outside of the office.
The feature comes as a response to continuing changes in the American workplace. The ongoing COVID-19 pandemic has already affected the whole world in lasting ways.
Remote work represents one such way the pandemic has already affected the workplace. With increasing need and demand for employers to provide remote working opportunities, a mobile option for clocking in and out has never before been as relevant.
Some companies, such as construction companies or other home improvement contractors can use mobile applications to allow for greater flexibility. The use of a mobile application can allow employees to clock in and out away from the office.
Furthermore, this functionality can help improve the accuracy of time reports since employees can clock in upon arrival at a job site.
Gailey then went on to discuss important setup details for TimeClick Mobile.
Currently, TimeClick Mobile only remains compatible with Premium packages or larger. However, the feature is available for use at no additional charge for clients that already have the proper package size.
Clients only need download the TimeClick mobile application from their app store and login to the main server. Once logged in, users can clock in and out with the tap of a single button.
This ability does not remove the ability for users to clock in and out normally at the main computer terminal.
Gailey went on to cite several ideas that TimeClick Mobile can support. For clients wanting to set up a time tracking kiosk, they can now use the mobile app on a tablet device.
Clients can then enable their employees to clock in at the set location so main computer terminals with sensitive information can remain secure.
Gailey concluded the webinar with an examination of feature requests from current TimeClick clients. One such request involves geolocation, a feature that tracks clocking actions by GPS location.
Geolocation allows businesses like construction companies to restrict clocking actions to specific locations so employees can only clock in upon arriving at a specific destination.
Gailey then invited current clients to submit any ideas or feature requests either by phone call or email.
The full video recording of the live webinar is available here.
TimeClick's Digital Content Specialist Daniel Lee also published a blog on the webinar. You can check out the full blog here.
For questions about TimeClick Mobile or about time tracking in general, TimeClick's team can be reached at (453) 753-4102 or at sales@timeclick.com.
Source: TimeClick