Three Visionary Startups With Global Prospects on Sydney's Northern Beaches
Press Release
•
updated: Mar 6, 2019
SEVENmile Venture Lab supports entrepreneurs to ensure the northern beaches economy of Sydney continues to flourish.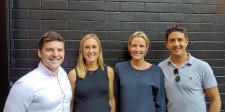 SYDNEY, March 6, 2019 (Newswire.com) - SEVENmile Venture Lab, Sydney's newest not-for-profit business accelerator, has been formed to ensure the northern beaches economy of Sydney continues to flourish through educational programs and mentoring for entrepreneurs of all ages.
Conclusive research by Startup Australia confirms how important startups and new ventures are to ensure economies remain resilient. The report is highly relevant for the northern beaches region of Sydney with its 270,000 residents and an economy generating a GDP of $20bn.
According to the research, in the next decade, over 4.5 million jobs are at risk. The least affected jobs will be those that involve high levels of human creativity or social intelligence. Skills such as entrepreneurship and business building, and technology skills that involve complex, creative problem solving, stand out as vitally important in this field.
Technology experts, and the entrepreneurs who leverage technology advancements into real-world products, will be in high and increasing demand as we adapt to the radical transformations ahead.
The research was a key motivation for Greg Twemlow, who created SEVENmile Venture Lab in Manly. Mr. Twemlow said, "The SEVENmile project can help protect our community from job losses and we have three entrepreneurial startups in Manly that have demonstrated exciting prospects and not just in our local economy."
wedBooker, GoTradie and CacheInvest are now seeking investment capital to realize their vision and contribute to our local, state and national economies.
Mr. Twemlow added, "These startups epitomize the innovative energy of many people living in Manly and are clear evidence of the entrepreneurial community that exists throughout the northern beaches."
Laura Engele and Belle Lamond (wedBooker), Adam Fazzani (GoTradie) and Caleb Gibbins (Cache) are committed to doing whatever it takes to achieve commercial success for themselves and their shareholders. They all agree that nobody told them getting a startup operational was going to be easy. To their credit, they've worked very hard to make their respective vision come to life.
Put yourself in the shoes of these young Manly entrepreneurs as they pursue their entrepreneurial dreams and strive to secure funding for their new ventures.
Belle and Laura started wedBooker following the arduous process of planning of their own weddings. wedBooker was created with the mission to mobilize couples and wedding businesses to find one another, compare offerings and interact all in the one place.
Belle and Laura said, "With approximately 120,000 Couples getting married in Australia each year, spending around $6bn, wedBooker empowers the busy working Couple to source, book and plan their dream wedding without the stress and without blowing their budget. wedBooker provides an efficient marketplace for Couples to source, compare and book the professional Suppliers & Venues most suited to their big day, all in the one place. Much like how Couples can effortlessly book their dream holiday using Airbnb, we want Couples to be able to book their dream wedding without limits."
wedBooker has been boosted by the support of the NSW Government via the Jobs for NSW Minimum Viable Product grant and is now live and operational for couples to access over 300 professional suppliers and venues.
Adam Fazzani, Founder of GoTradie said, "My aim is very simple, I want to help the 250,000 Qualified Tradies in Australia by providing a simple, easy to use mobile platform that helps run, manage and grow their business, without the need to be a computer expert. As an ex-carpenter, I understand that the work does not stop when you get home. On average, business owners are losing around $127,000 a year with all the additional admin work they have to do. As well as extra competition coming from the race-to-the-bottom quoting platforms such as HiPages and gig economy apps like Airtasker, who promote unqualified, unskilled labor. GoTradie is building an ecosystem that will not only support Tradies but provide those in need of their skills with an on-demand service that improves the overall experience for all."
Caleb Gibbins, founder of Cache, shared his passion for helping ordinary people do more with their savings. "Bank accounts are usually a bad investment," Caleb says, "they almost always go backwards when adjusted for inflation and income tax. Just because you want to send and receive money or spend in the shops doesn't mean you want to go backwards on your savings."
Caleb told us about Cache and his vision for a future without banks – where everyday people invest their savings in an investment portfolio that is available to transfer through an internet portal or spend on a payment card – just like a traditional bank account. Cache are finalizing their first product and intend to launch a beta version with early users over the next few months. Cache has recently received support from local Angel investors and has also received investment from the University of New South Wales Founder Fund. To sign up to the Cache beta or find out more, go to www.cacheinvest.com.au.
SEVENmile Venture Lab has been designed to assist founders like Laura, Belle, Adam and Caleb.
You can help SEVENmile extend the work we are doing by providing your time or sponsorship funding. Please consider joining our foundation supporters and be part of a great community initiative. Get in touch with us here: https://www.sevenmile.org.au/contact.
To find out more or apply for SEVENmile Venture Lab programs, visit https://www.sevenmile.org.au/programs.
For media inquiries or to request more information, contact Greg Twemlow. Phone +61 412 555 416 or email greg@sevenmile.org.au.
Source: SEVENmile Venture Lab
Related Media
Tags
Additional Links