Thousands of Ancient Stone Mounds Recently Discovered in Alabama
Press Release
•
updated: Jun 2, 2017
Stone mounds, stone walls, stone snake effigies discovered in mountains near Jacksonville, Anniston, and Oxford, Alabama; article appears in Alternate Perceptions Magazine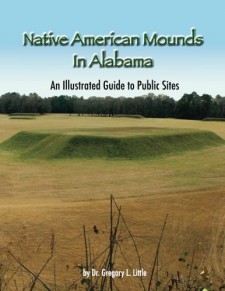 Jacksonville, Alabama, June 2, 2017 (Newswire.com) - Alabama is known for having one of the most important Native American Indian mound sites in the country. It is the impressive Moundville complex, a sprawling, 185-acre archaeological park with 29 huge, flattop pyramid-shaped mounds. It was constructed and utilized between A.D. 1000-1400.
While Moundville represents the most impressive archaeological site in the state, Alabama had a Native American mound-building culture that constructed hundreds of sites and thousands of mounds starting as early as 5000 years ago. Surprisingly, some of the more mysterious mound sites are only now being found. Recent discoveries and investigations by archaeologists have revealed thousands of ancient stone mounds and odd, linear stone walls in the mountains around Jacksonville, Anniston, and Oxford, Alabama.
The purposes of the stone mounds and walls were related to ancient spiritual beliefs and burial practices.

Dr. Harry Holstein, Professor of Archaeology
The first reports and investigation of these stone structures began in the 1980s with a survey of the Morgan Mountain Stone Mound Complex, east of what was then the active base of Fort McClellan. Dr. Harry Holstein, Professor of Archaeology at Jacksonville State University, reported in 1989 that the Morgan site consisted of "5 large stone mounds running in a linear fashion" on the summit of the mountain. Examination of the mounds revealed artifacts indicating that the mounds were "of Native American construction."
In 2003 Holstein, began investigating a site on the nearby Choccolocco Mountain chain that was discovered by a new landowner. At this sprawling complex, Holstein's team initially found "79 conical [stone] mounds, one horseshoe-shaped mound, 31 linear walls, and a serpent-like stone wall." In 2007, Holstein's team concluded that the stone mounds and walls "were likely constructed by prehistoric Woodland Indians as memorials to deceased individuals."
In 2010, Holstein issued a report on another stone mound complex in the area — the "Morton Hill Stone Structure Complex." Located on the grounds of what was once Fort McClellan, it is a widespread complex of a couple hundred stone mounds and dozens of linear walls. In addition, several large stone-formed effigies of snakes were found in the region, along with nearly a dozen other stone mound complexes. Holstein asserts that the purposes of the stone mounds and walls were related to ancient spiritual beliefs and burial practices.
In 2017, the author of the just-published "Native American Mounds in Alabama" (Dr. Gregory Little) toured the stone mound sites with Holstein. During the tour of the sites, Holstein related that the mountains around Jacksonville and Anniston likely have thousands more undiscovered mounds. Maps of the sites, color photos, and detailed descriptions of these and other mounds in Alabama are found in the new book, which features 46 mound and museum sites in Alabama. Dr. Little is the author of "The Illustrated Encyclopedia of Native American Indian Mounds & Earthworks," which had its second and revised edition issued in 2016.
A more detailed article about the stone complexes can be found in the June issue of Alternate Perceptions Magazine.
Source: Alternate Perceptions Magazine
Related Media