Thornhill Medical Earns Second Place in Global Competition
Press Release
-
updated: Nov 9, 2017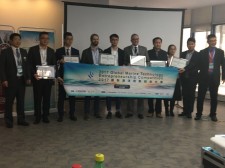 TORONTO, Canada, November 9, 2017 (Newswire.com) - The 2017 International Marine Innovation and Entrepreneurship Competition (MTEC) Finals were held in Qingdao Blue Valley on the 6th of November. After the selection of 10 preliminary matches in 6 countries, a total of 50 teams entered the finals. Eventually, the Eco-Friendly Marine Coatings team from Germany won the championship and received 500,000 RMB bonuses and the start-up counseling and support services provided by Shandong University. The team from Thornhill Medical (an innovative medical device company) from Toronto Canada was the runner-up in second place and received 300,000 RMB bonuses and start-up counseling and support services as well.
2017 International Marine Innovation and Entrepreneurship Competition (MTEC) is by far one of the largest international innovation and entrepreneurship competitions in the world. It is co-founded and sponsored by Qingdao Blue Valley Administration and Shandong University. The International Science and Technology Innovation Park of Sino-American University of Shandong University, Oceanographic Institute and cocoa space / cocoa capital co-host.
This competition combines the development orientation of Qingdao Blue Valley focusing on marine and life science and technology as well as the rich practical experience of innovation and entrepreneurship transformation of Shandong University and the advantages of cross-integration of marine and life sciences. The theme of field innovation and entrepreneurship has been positively responded to by companies, entrepreneurs and research institutes both at home and abroad.
The competition covered 10 cities in 6 countries and 3 continents, including; Kiel in Germany, Paris in France, London in England, Toronto in Canada, Halifax in Canada, Boston in the United States and Silicon Valley in the United States as well as Shanghai, Jinan and Qingdao in China. A total of about 120 teams won the prelude to the roadshow, of which about 30 participated in the European Division competitions, about 40 in the North American division competitions, and about 50 in the Asian competitions. Eventually the field of competitors was narrowed to 50 global teams in the finals.
About Thornhill Medical
Thornhill Medical makes innovative healthcare devices. Our founder, Dr. Joseph Fisher, is a world-renowned research scientist in the field of anesthesiology and cardiovascular intensive care. Since spinning off from the University Health Network in 2003, Thornhill Medical has built upon his expertise to develop and manufacture compact mobile emergency respiration and anesthesia devices. Our full story can be found on our website, www.thornhillmedical.com.
Media Contacts:
Thornhill Medical Inc.​
​Kipton Lade
(416) 597-1325​
​klade@thornhillmedical.com
Source: Thornhill Medical
---
Categories: Entrepreneurship, Healthcare and Medical News, Radiology and Medical Imaging
Tags: Entrepreneurship, Global Competition, Medical Technology
---