This Anti-Aging Treatment Will Have Everyone in Awe of Your 'Secret' to Youthful Skin
In the ever-changing world of skincare, the latest breakthrough in anti-aging treatments is here. Thanks to Cutera's new fractional Radiofrequency (RF) microneedling device, RF Microneedling is no longer exclusive to only those who can afford these specialized treatments. This cutting-edge treatment is currently only offered at selected offices including the experts at Siperstein Dermatology Group
Press Release
-
updated: Aug 7, 2018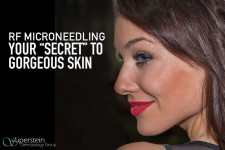 BOYNTON BEACH, Fla., August 7, 2018 (Newswire.com) - The quest for staying youthful and maintaining a radiant complexion has always been a top priority for an aging population and especially for cosmetic dermatology professionals. While the "fountain of youth" has yet to be discovered, experts are finding new ways to enhance current skincare treatments and produce amazing results. That is why Siperstein Dermatology Group is proud to announce that it has joined the ranks of those at the forefront of innovative skin treatments by offering Cutera's newest innovation called "Secret RF."
Siperstein Dermatology Group founder, Dr. Robyn Siperstein states: "Radiofrequency Microneedling can rebuild and revitalize your skin. For the best results, we usually recommend 3 treatments with the 'Secret RF,' though we have had clients see dramatic improvements after just one or two sessions."
By booking an appointment with any of the experts at Siperstein Dermatology Group, patients can experience this groundbreaking, non-surgical procedure in the comfort of the practice's world-class facility. Each treatment typically takes only 20-30 minutes and can be performed on all skin types.
The 'Secret RF' microneedling device is quickly becoming one of the most successful and sought-after anti-aging treatments, because it offers something that old microneedling devices cannot – heat targeted directly to the deepest layers of the skin, while the upper skin remains intact, resulting in almost no downtime. With the heat that comes from Radiofrequency, the microneedling process has moved from merely piercing the surface of the skin, to reaching further into the deeper dermis and regenerating the collagen stored there.
This method of anti-aging treatments, when done professionally at a dermatology office, can be transformative. It not only rejuvenates the skin's appearance but also improves fine lines and reduces the appearance of wrinkles. Since the heat is delivered, deeply It can also create a skin tightening effect, unlike other alternative treatments available today.
Come and experience the evolution of skincare with Siperstein Dermatology Group and Cutera's "Secret RF."
Source: Siperstein Dermatology Group
Share:
---
Categories: Dermatology/Skin Diseases
Tags: aesthetic beauty, anti-aging, cosmetic dermatology, dermatologist, dermatology, microneedling, radiofrequency microneedling, RF microneedling
---