CoolSculpting Specialist Joins the Cosmetics Team at the Siperstein Dermatology Group (SDG) After Graduating Top of Class
Siperstein Dermatology Group is pleased to announce the appointment of a new CoolSculpting Specialist. After graduating top of the class at the CoolSculpting University in Reston, Virginia, and years of experience, Dalia will form an essential part of the cosmetics specialist team.
Press Release
-
updated: Apr 24, 2018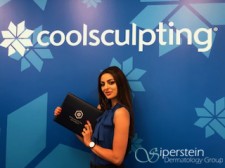 BOYNTON BEACH, Fla., April 24, 2018 (Newswire.com) - Siperstein Dermatology group has welcomed the addition of a new CoolSculpting Specialist, Dalia Ali, to the dynamic team. With substantial experience in the industry, Dalia recently graduated from the CoolSculpting University in Reston, Virginia. Graduating top of class at the university, Dalia will continue work at the Siperstein Dermatology Group along with other trained professionals that have received specialized training in the field.
CoolSculpting is an award-winning FDA-approved treatment that targets stubborn fat areas. The benefit of the treatment is that noticeable results can be achieved without the need for surgery or lengthy recovery time. The treatment is based on the process of freezing fat cells through the use of controlled cool temperatures to a specific area. Based on the science of Cryolipolysis, fat cells are removed without damaging the surrounding area, with no risk of scarring. These cells crystallize and the body processes the dead cells. Changes can be seen as soon as three weeks after initial treatment. Within two months of treatments, best results are presented as the body flushes out fat cells.
With over one million treatments performed worldwide, the non-invasive nature of the treatment has provided a solution that is both safe and effective.
Robyn Siperstein, M.D., comments: "We're proud to welcome Dalia to the team as she contributes to the specialized offering for our patients. Her dedication to the trade and expertise in the field will be vital as the treatment gains popularity."
SDG is well-known for attracting key doctors, specialists and board-certified dermatologists with top-tier training and credentials. With offices based in Boca Raton and Boyton Beach, Siperstein Dermatology Group has an extensive expertise in both cosmetic and medical dermatological treatments, from anti-aging to skin-rejuvenation as well as acne and alopecia.
Siperstein Dermatology Group is looking forward to welcoming all patients to experience a complimentary consultation with a trained and professional specialist such as Dalia. Consultations can be booked online or by calling 561.364.7774.
Source: Siperstein Dermatology Group
Share:
---
Categories: Cosmetic and Reconstructive Surgery
Tags: CoolSculpting, Cryolipolysis, Fat Reduction Treatment, Fat Removal, Liposuction Alternative
---