Thirdhill Entertainment Actor Angus Benfield Talks About His New Film, Natural Disasters and Staying Motivated
Angus Benfield is the star of the feature film 'MOTORVATION' in which he plays the lovable, struggling motivational speaker 'Fatty Melvin'
Press Release
-
updated: Nov 27, 2018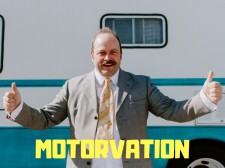 LOS ANGELES, November 27, 2018 (Newswire.com) - Australian actor Angus Benfield, based in Thousand Oaks, Los Angeles, has now been through several natural disasters and knows that the best thing to do is to hold onto hope and keep motivated.
Angus Benfield is the star of the feature film "MOTORVATION" in which he plays the lovable, struggling motivational speaker "Fatty Melvin."
The film is being shot in the areas of Thousand Oaks, Westlake Village, Simi Valley and Fillmore. Recently, however, most of the cast and crew found themselves evacuated as the wildfires devastated their neighborhoods.
Angus stated that "The fires came right up to our backyard – the heat was so intense it melted our fence and cracked the windows."
Angus and his family have also been through several other natural disasters – "I had just finished filming 'The HOLY ROLLER' in Christchurch, New Zealand, when we experienced the devastating earthquakes – everyone in the film was affected; the cast, the crew and even the locations – most of which we filmed in are now no longer there. The wildfires reminded me a lot of that experience. However, you must hold on to hope and keep yourself motivated, and keep going forward. When you're going through hell, you have to keep going and that's what everyone has done in the community and on the film."
Angus was told by the casting director Michelle Fozounmayeh that many of the young child actors in the film were so focused on auditioning for the film and worried that they may miss out on filming their scenes due to the fires. "Parents were actually relieved by this as it provided a welcome distraction for their children in the midst of the chaos that was going on around them."
Angus Benfield is joined by actors Ryan O'Quinn, Lance Bonza and stand-up comedian Cammy Brickell. "We hope that the film will raise people's spirits, encourage and motivate them to keep moving forward."
"MOTORVATION" is a sweet family movie about a man, a motorhome and a town that is falling apart. It is produced by Ignite Pictures, Thrillers Films and Damascus Road Productions in Los Angeles and will be released in 2019.
Angus Benfield is an actor originally from Australia who is now currently based in Los Angeles. Over the last 12 months, he has starred in several commercials, the TV series "MISSING TIME" and the feature films "ALL RISE" and "HIGH ROLLERS," along with starring as Fatty Melvin in the feature film "MOTORVATION." In 2019, he will be starring in "FINDING EMILY" and the Sci-Fi series "LUNA RUSH."
Press Contact:
Toni Benson
Thirdhill Entertainment
+1-310-786-1936 phone
213-254-9049 fax
thirdhill@thirdhillentertainment.com
195 S. Beverly Dr., Ste. 400
Beverly Hills, CA 90212
Source: Thirdhill Entertainment
Share:
---
Categories: Movies, Arts and Entertainment
Tags: Angus Benfield, Australia, Comedy, Faith - Based, Family Film, Feature film, Los Angeles, Motivational, Thousand Oaks, Ventura County, Wildfires
---