Aussie Angus Lands Dream Role
Australian Actor Angus Benfield is to star in his biggest role yet — in Hollywood
Press Release
-
updated: May 9, 2017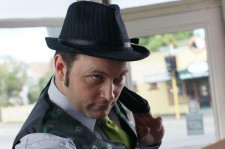 Sydney, Australia, May 9, 2017 (Newswire.com) - Angus Benfield ("The Holy Roller") has just landed his next feature film role. The movie titled "Motorvation" follows Fatty Melvin (played by Benfield), a struggling motivational speaker who one day has an epiphany that changes his whole message from chasing after "wealth, health and stuff," to "living for today." Benfield will be traveling to Los Angeles in late 2017 for the shoot.
Angus commented, "I've been working in Australia for years and have always had the US in my sights. Now it's finally happened … it's incredibly exciting to get an opportunity like this, especially to be part of such an important film."
'We get so caught up in chasing after a life that is always 'WHEN' — when we are richer, when we get that job, when we lose those extra pounds — that we miss out on what is really important in life. As an Actor in this business, I know that all too well. Living in the 'moment' can be one of the hardest things," he said.
Angus isn't a newcomer to the big screen. He had his big break in Australia when he was cast as lead Lex in Dean Murphy's cult classic  "Lex and Rory," Jack in the indie film "Wait up Harriet," and most recently as Pastor Luke in "The Holy Roller," which was released in cinemas in Australia and New Zealand as well as being Official Selection at the New Zealand film festival and selling out every screening. "The Holy Roller" then went on to have a hugely successful release across the US, which is still going strong to this day.
"It's a message that I really believe in. We are in a constant struggle to be more than we are, or have more than we currently do. We want to obtain the next big thing, to lose those extra pounds and to be number one. But what happens if I keep being number 203 and I never get big, except around my waist … Does that mean I can't ever be happy? You can only truly be happy when you learn to appreciate what you HAVE got. Life is in the little moments along the way, the journey is where it is lived, not in the destination," he said.
"It's an issue that I especially see affecting kids these days. When I was young, we didn't really seem to care about who had what; now, the focus is heavily fixed on who's got the latest this and that, and how many likes you can get online. Too many kids today are suffering from status anxiety, because they didn't get enough online likes, because they don't look a certain way, because their parents aren't as rich as the next kid's. They don't realise that even if they got all of those things, they would still feel the same," he said.
"Even though I have this opportunity to be part of such an exciting film, I also realise that it's easy to get caught up in it all and lose perspective in life, so I aim to enjoy the 'journey' and appreciate every moment." 
"Motorvation" will be released worldwide in 2018 through Ignite Pictures. 
Source: Ignite Elite Artists / Angus Benfield
Share:
---
Categories: Movies, Comedy, Arts and Entertainment, Personal Growth
Tags: Angus Benfield, Australia, Feature film, Los Angeles, Motivational
---