The Zero Shield for the New Raspberry Pi Zero Launches on Indiegogo Today
Press Release
•
Dec 21, 2015
Pi 2 Design has launched it's a crowdfunding project on Indiegogo for an add-on board for the brand new Raspberry Pi Zero. Featuring built in WiFi, two full-size USB ports, Real-time Clock and Temperature Sensor.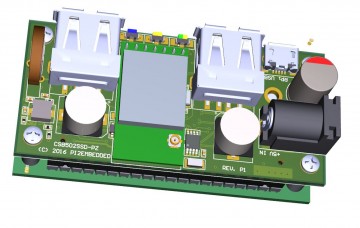 Smithfield, RI, December 21, 2015 (Newswire.com) - Hot on the heels of our first successfully funded Kickstarter campaign for the CSB502SSD for the Raspberry Pi 2, the Raspberry Pi Zero has been released to the world and it's a game changer! Higher performance than the original Pi, but smaller, cheaper and much lower power. In order to achieve this, the Pi-Zero was designed with very minimal I/O. To compliment this, Pi 2 Design has created the Zero Shield, giving users their full-size USB ports back, 802.11b/g/n WiFi, M.2 SSD Socket, Real-Time Clock with Battery backup all in the new Pi Zero form factor. It was a tight squeeze but we did it!
Similar to our CSB502SSD, the Zero Shield can supply enough power to support the shield and Pi Zero through its on-board power jack. You can find it on Indiegogo here:
Technical Specifications
Raspberry Pi Zero Shield (same size as Raspberry Pi-Zero)
Two USB 2.0 ports w/500ma output for additional expansion
PL2571 - USB to SATA Bridge controller
NGFF Socket for up to 250GB on-board storage
GWF-3M08

WiFi

Module (Based on

Ralink

RT5370) provides 802.11b/g/n for up to 150Mbps. On-Module IPEX connector allows for optimal antenna placement.
DS1339 Real Time Clock with 12mm Rechargeable Coin Cell Battery and Programmable Alarm.
1-Wire DS18B20 Temperature Sensor mounted below SSD to monitor health of drive.
Additionally the DS18B20 has a unique 64-Bit ID that can be used to identify the shield.
Related Media
Related Files