The World Film Fair, New York, 2018 - the Film Fair Industry's Newest Concept
Press Release
•
updated: Nov 18, 2017
THE WORLD FILM FAIR, OCT. 26-31, 2018, NEW YORK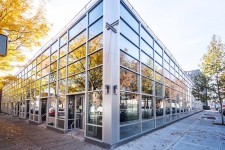 NEW YORK, November 18, 2017 (Newswire.com) - Introducing the World Film Fair, coming to New York from Oct. 26-31, 2018. It is the newest addition to the Film Fair industry and will establish itself among some of the greats, including the American Film Market (AFM), Berlinale International Film Festival, Hong Kong International Film & TV Market (FILMART) and the Cannes Film Festival.
The World Film Fair brings a unique, fresh and exciting aspect and will be unlike any other Film Fair. It takes place in the Brooklyn Expo Center, a bright and spacious venue with floor-to-ceiling glass, that will host exhibitors on the main floor and film screenings in the adjoining meeting rooms
The World Film Fair will consist of 5,000 new films and projects. There will be 1,500 industry professionals such as buyers, production companies, investors and distributors present. For those attending there will be a variety of 50 workshops and seminars hosted by 50 different speakers, covering a range of topics, such as how to write a great screenplay and how to get the right marketing for your project. Projects from 80 countries over the course of the five days with attendance of more than 250,000 people are expected on site, with an additional 4,800,000 people participating in 25 talks and post-film conversations from afar via Facebook Live.
In addition to this, approximately 100 Film Festivals will be held during the World Film Fair, showcasing a range of the best films from around the world to the prospective buyers at the fair. There will be a total of 300 screenings held in five of the best New York theatres. The festivals are already established worldwide in Europe, Asia, North America and Australasia and will be screening a selection of their award-winning films during the World Film Fair.
As well as Film Festival screenings, there is also a special Schools and Universities film sector where the best Student Films and Works from all over the world are presented in the School and Universities Films Production Center. More than 50 schools and universities are taking part in the competition in this sector. Winners receive grants for their work to be screened at some of the best festivals in the world. World Film Fair invites universities, schools, students and children to bring their films, concepts and projects and see them brought to life on the big screen.
Those in attendance will have the opportunity to meet and network with leading industry professionals from the New York area. The World Film Fair will give access to distribution companies, production companies and investors all under one roof.
For filmmakers and industry professionals who want to be a part of a new style of Film Fair, visit the World Film Fair website at https://worldfilmfair.com, where all information can be found about how to exhibit, become a sponsor or how to get a film screened.
Make sure to visit the World Film Fair website and Facebook page at https://www.facebook.com/WORLDFILMFAIR/ regularly to keep up to date on everything that will be on offer at the event.
Source: The World Film Fair
Related Media
Additional Links