The VINU Network Lists $VNN Token on MEXC Global
Press Release
•
Jan 26, 2023
The VINU Network takes a big step in the Web 3 industry with MEXC Global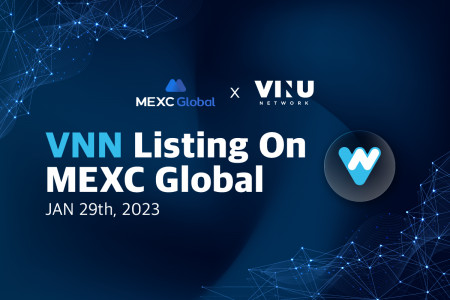 SINGAPORE, January 26, 2023 (Newswire.com) - The VINU Network has announced that it will be listing its token, $VNN, on the major exchange MEXC Global, on the 29th of January at 10:00 (UTC). $VNN is an ERC-20 token built on the Ethereum blockchain, and has a fixed supply of 2 billion tokens. It is the native token that will be used within the VINU Network platform.
Holders of the $VNN token will be able to benefit from various utilities, including exclusive access to VINU's limited edition NFT presales, as well as the ability to trade VINU NFTs in its marketplace.
Even long before the token launch, The VINU Foundation has stressed that it always strives for a platform with an organic virtuous cycle of tokens. It aims to focus on the quality of its platform and increase the token value while prioritizing transparency, greater security, and consumer protection within the recently shaken Web3 space.
The launch of $VNN tokens on MEXC is an important milestone for the VINU Network, and a step towards its ultimate goal of creating a globalized platform that serves various users and industries, and further solidifying its position in the Web3 world.
About the VINU Network
VINU Network is a real-economy Metaverse based on franchises that exist in the real world. It has an intricate infrastructure of hundreds of unmanned stores and chains all around Europe and Asia, and these stores will link directly to ones within the VINU SPACE, VINU Network's own Metaverse. Users can become 'Owners' by holding a Store NFT, and therefore will be able to claim ownership and operation rights to these stores, as well as multiple holder-only benefits that include funding and support for those who wish to proceed with an offline start-up.
VINU Network is also launching its own NFT pack, marketplace, and staking pool for all users to participate in and generate continuous rewards.
More information on VINU Network is available in its whitepaper.
Connect with VINU Network through the following links:
VINU Networks Socials : Telegram | Twitter | Medium
Media Contact : Deena | biz@vinunetwork.io
Source: VINU FOUNDATION LTD.