The United Kingdom Is Dominating the Biodegradable Food Service Disposables Market
Press Release
•
updated: Oct 28, 2017
Biodegradable Food Service Disposable Containers are fast becoming the standard. With improving technology and better heat resistant bio-plastic resins, this will become the de facto standard in the near future. Leslie Carr of Scyphus, writes about the Biodegradable Disposable Market, its future and how Scyphus Biodegradable Section is coping with the growing demand.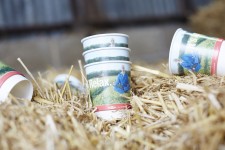 NORTHAMPTON, England, October 28, 2017 (Newswire.com) - ​The biodegradable food service disposables market is experiencing a healthy growth in Europe. More and more food service providers are taking initiatives to reduce waste while numerous associations are increasing their activities and campaigns to promote eco-friendly products. The United Kingdom (UK) is viewed as the fastest-growing market in the region, with a shift in consumer behaviour influenced by a preference for eco-friendly products.
The need for biodegradable food service disposables
Biodegradable food service disposables are products that can undergo biological decomposition in a compost site, for instance. The products break down to carbon dioxide, inorganic compounds, water, and biomass at a rate similar to compostable materials like leaves.
Most biodegradable materials used for food service disposables are biobased, derived from renewable agricultural as well as forestry resources. Corn, cellulose, sugarcane, soybean, grass and bamboo are certain examples. Popular products in the market include PLA (corn-based polylactic acid). This material is commonly used in biodegradable paper cups and containers.
Apart from representing an eco-friendly and healthy alternative to non-degradable disposable takeaway products, once composted, biodegradable ware provides supplementary benefits such as increasing nutrients in soils, maintaining moisture in soils, reducing the need for chemical fertilizers, suppressing plant diseases and pests, regenerating poor soils, and managing erosion problems amongst others.
Europe is witnessing a change in consumer behaviour
The consumer behaviour in Europe is undergoing positive changes and is heading towards sustainability for various reasons and due to multiple factors, according to a report by Persistence Market Research (PMR). Since several years already, the European Commission has been striving to urge consumers and businesses to make efforts to protect the environment. Today, this endeavour is still going strong as policymakers are increasingly exploring ways to empower consumers to go green.
One of the focus areas is the food industry. Consuming organic food, as well as looking for means and ways to improve the level of recycling and increase the use of biodegradable food service disposables, are key concerns. Seemingly, the route traced to empower consumers and businesses to take environmentally friendly decisions is proving to be fruitful.
The compound annual growth rate (CAGR) of the European market is estimated at 5.5%. Subsequently, by 2022, the region should witness a market value of US$ 1,429.9 million. In 2014, the biodegradable food service disposables market was valued at US$ 941 million and in terms of volume, the market stood at 5,550 million units. This figure is expected to keep growing at a CAGR of 2.8% until 2022.
Cups and bowls are the leading biodegradable food service products
The research conducted by PMR highlights that the cups and bowls segment accounted for the largest biodegradable food service disposables market share and is expected to maintain its dominance through 2022. By end use, the restaurants segment accounts for the biggest value share and is estimated to keep the same trend for the forecast period until 2022.
Other research carried out by Nova Institute and Narocon establishes that disposable, short-life products, such as paper cups, dominate the market as a powerful waste management solution. Big event caterers, as well as distributors, are equally actively driving the variety of PLA disposable tableware and food packaging, uniting the need for convenience and the need to be environmentally friendly. The share these disposable products occupy is expected to grow further until 2020.
The UK is dominating the global market
The biodegradable food service disposables market is undergoing favourable growth in the UK. The fast-paced lifestyle and parallel growth in take away food have led to the expansion of on-the-go food items and beverages. Similarly, online food ordering, as well as home delivery services, are booming. Disposable food containers, in this case, are the epitome of convenient and lightweight packaging carry food. Today, food service disposables encompass a large array of attractive and functional designs for packaging, such as tailor-made paper cups or containers.
In 2014 already, the country's value share in the biodegradable food service disposables market amounted to 45.8% of the global value. This percentage is rising steadily. Several companies and consumers are relentlessly waging war against plastic food products and shifting towards biodegradable disposables. This environmental awareness coupled with an increasing number of on-the-go food items and beverages are indicating a bright future for the biodegradable food service disposables market in the UK.
In the same breath, the use of PLA coating is seen as a competitive alternative to PET in terms of pricing. Expertise in biodegradable product technology is being developed at an amazing speed, with numerous big manufacturers investing in this development themselves.
Turning waste products, sugar and carbon dioxide into biodegradable packaging
Amidst the extensive number of research works and development projects being carried out in the UK to reduce waste, scientists in South Wales are currently participating in a massive EU-funded research project costing €3 million Euros, to explore techniques to transform waste like food waste and sewage into biodegradable packaging.
This project named as the Res Urbis (Resources from Urban Bio-waste) will span over three years and includes the participation of the University of South Wales. The group of scientists are looking at ways to unite a panoply of biological techniques to produce reliable alternatives to petroleum-based plastics. In other words, techniques are being devised to convert urban bio waste into bio plastic. Twenty-one institutions from various parts of Europe are also on board.
Another equally interesting project is being proposed after thorough research by scientists from the Centre for Sustainable Chemical Technologies at the University of Bath. The research consisted of using sugars such as ribose and mannose, and carbon dioxide to make bio plastics to replace unsustainable plastics made from crude oil. The scientists claim that the bio plastic possesses similar physical properties as those derived from petrochemicals, such as strength, transparency and resistance against scratch.
The global bioplastic packaging demand is expected to reach 884,000 tonnes by 2020 as major innovative technologies are emerging. A study by Smithers Pira reveals that the market demand will shift from biodegradable and compostable polymers towards bio-packaging based on sustainable materials.
Source: Scyphus, UK