The Temple House Partners With Delano South Beach
Press Release
•
updated: Nov 21, 2017
To Offer Full Range of Venue, Hotel and Event Planning Services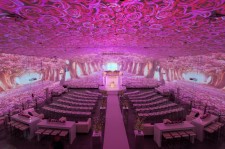 MIAMI BEACH, Fla., November 21, 2017 (Newswire.com) - The Temple House South Beach is pleased to announce that it has partnered with The Delano South Beach Hotel, an sbe property, in a reciprocal agreement offering the full array of Delano's hotel services combined with The Temple House meeting, venue, wedding, and assembly space for larger events. This new partnership brings the splendor of The Temple House together with the Delano South Beach premier level of services and amenities.
With its soaring lobby and subtle seductions, Delano is the hotel that changed South Beach forever. Delano's signature South Beach restaurant, Leynia, a dynamic Argentinian Grill inspired by flavors from Japan which features the rustic allure of open flame cooking, while Umi Sushi and Sake Bar provides a casual dining experience, perfect for group dining. Sip one of the infamous cocktails and enjoy people-watching at the sophisticated Rose Bar. Delano Beach Club is the ultimate in poolside luxury, serving meals and cocktails from day into night. Tucked away behind closed doors in the back of Delano's expansive lobby, Doheny Room offers a refined, yet stylish lounge atmosphere. Unwind and rejuvenate at agua Spa, the rooftop wellness center where guests enjoy traditional spa classics and luxurious pampering.
The Temple House is experiencing substantial year-over-year growth. The Delano/sbe relationship underscores the power of our business model and paves the way for growth of The Temple House brand in other key metropolitan markets.

Daniel Davidson, CEO/Founder
Widely considered to be one of the most desirable private event venues in the U.S., and coveted by celebrities and leading brands, The Temple House's striking indoor space features 25-foot high ceilings and offers complete protection during unexpected tropical downpours, while the outdoor space is perfect for any event under the sun, moon and stars. Guests receive personalized attention and custom-designed events at a moment's notice courtesy of a dedicated team of caterers, wedding planners, event designers, florists, and audio-visual experts all skilled in delivering memorable experiences for guest counts ranging in size from 6 to 600.
The Temple House is walking distance from the Delano's signature oceanfront setting and greatly expands the hotel's event capabilities, providing the perfect combination of style and sophistication for any occasion. Weddings, corporate events, social gatherings (from bar mitzvahs to quinceañeras), celebrity events, product launches and film productions are seamlessly produced by The Temple House award winning design teams.
"We could not have found a better partner with The Delano," stated Daniel Davidson, Founder & Owner of The Temple House. "We now have the ability to provide world-class accommodations to our many celebrity and corporate guests, wedding couples and their friends and families." Davidson further noted that "The Temple House is experiencing substantial year-over-year growth. The Delano/SBE relationship underscores the power of our business model and paves the way for growth of The Temple House brand in other key metropolitan markets."
"The Temple House and Delano are perfectly aligned in terms of a special signature look and feel of expansive unobstructed space and dramatic visual appeal," said Chris Sariego, Vice President and General Manager, Delano South Beach. "Our audiences are identical, our potential for growth is incredible and together we can offer untold event options."
Jaw-dropping video and projection mapping produce dynamic imagery on all walls and the ceiling of The Temple House enveloping guests with 360 degrees of visual immersion. With one the largest permanent installations in a private indoor venue in the United States, the award-winning audio-visual team is able to transform the venue, from underwater to outer space, with customized high-definition content for any type of event.
# # #
About sbe
Established in 2002 by Founder and CEO Sam Nazarian, sbe is a privately-held, leading lifestyle hospitality company that develops, manages and operates award-winning hotels, residences, restaurants and nightclubs. Through exclusive partnerships with cultural visionaries, sbe is devoted to creating extraordinary experiences throughout its proprietary brands with a commitment to authenticity, sophistication, mastery and innovation. Following the acquisition of Morgans Hotel Group, the pioneer of boutique lifestyle hotels, sbe has an unparalleled global portfolio featuring over 20 world-class lifestyle hotel properties in nine attractive gateway markets and more than 136 global world-renowned hotel, entertainment and food & beverage outlets. The company is uniquely positioned to offer a complete lifestyle experience — from nightlife, food & beverage and entertainment to hotels and residences, and through its innovative customer loyalty and rewards program, The Code, as well as its award-winning international real estate development subsidiary, Dakota Development — all of which solidify sbe as the preeminent leader across hospitality. sbe will continue its expansion with 13 hotel properties opening in the next two years (some with residences), including SLS Baha Mar, SLS Seattle, Mondrian Doha and Mondrian Dubai. The company's established and upcoming hotel brands include SLS Hotel & Residences, Delano, Mondrian, Redbury, Hyde Hotel & Residences, Clift, Hudson, Sanderson and St Martins Lane. In addition, sbe has the following internationally acclaimed restaurants and lounges: Katsuya, Cleo, The Bazaar by José Andrés, Fi'lia by Michael Schwartz, Umami Burger, Hyde Lounge and Skybar. More information about sbe can be obtained at sbe.com.
About The Temple House
Established by Daniel Davidson, The Temple House is one of the premier private event venues in the United States. The 15,000 square foot property is located in the heart of South Beach, has served a pivotal role in private events and productions for Fortune 500(r) corporations and celebrities alike and has been seen in countless films, photo, and video productions with over 2 billion views in the media.
Jennifer Lopez, Ricky Martin, Nicki Minaj, Dwyane Wade, One Direction, Michael Jordan, Enrique Iglesias, Jay Z, Vice President Al Gore, The Kardashian Family, Andy Cohen, P. Diddy, Marc Anthony, Donna Karan, Puma, Jet Smarter, FOX, Telemundo, Rolls-Royce, Porsche, Major League Baseball, RBC, Modern Luxury, Prince Royce, Nicky Jam, Tesla, Warner Bros, Sprint, Asics, Microsoft, Intel, Ritz-Carlton, New York Times, Washington Post, Nike, Juanes, and Shakira are just some of the iconic brands who have hosted or been featured in private events at The Temple House. For more information visit www.TheTempleHouse.com.
Media Contact:
Daniel Davidson
+1-786-280-6565
dan@thetemplehouse.com
Source: The Temple House