The Temple House Hosts Los Vivancos and Marvels at Stunning Surprise Performance
Press Release
•
updated: Apr 3, 2019
The world's leading flamenco company performs impromptu dance at The Temple House.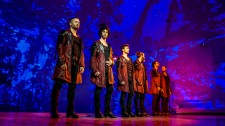 MIAMI BEACH, Fla., April 3, 2019 (Newswire.com) - The extraordinary Dance Company and talented musicians, Los Vivancos, made up of brothers Aaron, Elias, Cristo, Judah, Josua and Israel, gave an impromptu performance at iconic and award-winning South Beach venue, The Temple House. The brothers, performed at the Adrienne Arsht Center that evening and afterward took a private tour of The Temple House before changing into their stage costumes and giving the team at The Temple House a private showcase.
The company, originally from Spain, is comprised of six biological brothers who have toured the world as, according to New Yorker Magazine, "The most internationally renowned Flamenco company today." Art runs in the family as their father was a professional dancer and musician as well. Each armed with an instrument; Aaron with the electric violin, Elias and his electric cello, Cristo and an electronic wind instrument, Judah on the 5-string cello, Josua with the flamenco cajon (a type of Peruvian box drum), and Israel plays the flute, these brothers are multi-talented artists individually as well as stellar group mates. Their new show, Born to Dance, fuses Flamenco, Ballet, Martial Arts, Street Dance, Theatre and Acrobatics. Their choral work of art combining charisma, showmanship and an exceptional sense of rhythm is setting audiences ablaze around the world.
After their electrifying performance at the Adrienne Arsht Center, they were invited to The Temple House to celebrate with an exclusive tour and 360-degree projection mapping show. Upon seeing the space and being immersed in the visual performance the group then proceeded to perform a number right then and there on the main floor of The Temple House. The performance, captured on video by The Temple House owner Dan Davidson, shows how truly talented and versatile these men are. The video can be seen here.
As Los Vivancos continues to perform to sold-out theaters around the globe, The Temple House team is honored to have had this intimate opportunity to see the most exciting flamenco artists in the world!
About The Temple House:
The Temple House is one of the premier private event venues in the United States. Located in the heart of South Beach, The Temple House has been an icon for film production and private events in Miami Beach, serving Fortune 500 companies and celebrities alike. The Temple House has been seen in a number of films, photo and video productions and has hosted many celebrities for private events including Jennifer Lopez, Ricky Martin, Nicki Minaj, Dwyane Wade, One Direction, Enrique Iglesias, Jay Z, Andy Cohen, P. Diddy, Marc Anthony, Donna Karan, Puma, FOX, Telemundo, Rolls-Royce, Porsche, Major League Baseball, Modern Luxury, Nicky Jam, Tesla, Warner Bros, Sprint, Asics, Microsoft, Intel, Ritz-Carlton, Nike, Juanes and Shakira. For more information regarding bookings and event dates, please visit https://thetemplehouse.com.
"The Talent of Los Vivancos"
Elias, Aaron, Judah, Cristo, Josua and Israel are the six brothers who make up Los Vivancos. Defining their show is not as simple or exciting as experiencing it by yourself. More than 2M spectators in 54 countries have already experienced the extraordinary fusion of disciplines that Los Vivancos show in their productions. At five years old, they learned to dance in the school that their father founded and each brother mastered playing at least two instruments, each being able to write and compose their own original scores. They also learned martial arts and circus techniques, great protagonists of their shows. Due to their innate talent and a disciplined artistic education in the best dance and music schools around the world, Los Vivancos is currently one of the most innovative companies of the moment, awarded and recognized internationally. Through worldwide acclaim and appreciation, they are a triple threat: elite athletes musicians and dancers. They are said to be the musical-scenic phenomenon of this new decade. They have managed to beat global records, such as Israel with the Guinness Record to the fastest 'zapateado': 1317 hits in a minute. Most recently, they were a featured artist on the new hit CBS show The World's Best. The video can be seen here (https://www.youtube.com/watch?v=rq3_W751Wuw). Los Vivancos is represented by Creative Booking Agency founded by Christine L. Barkley. For more information or booking visit www.creativebookingagency.com.
Source: The Temple House
Related Media