The SmoothTech|Pro™ Revolutionary Hair Removal System for Men Makes Its Arnold Sports Festival Fitness Expo Debut
Visit SmoothTech|Pro™ at Booth 2307 on March 2-5 in Columbus, Ohio at The Arnold Sports Festival Fitness Expo. It's a COMPLETE SYSTEM FOR SMOOTHER, CLEARER SKIN!
Press Release
-
updated: Feb 27, 2017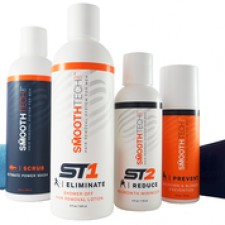 Los Angeles, CA, February 27, 2017 (Newswire.com) - For bodybuilders, mixed martial arts enthusiasts, boxers, weightlifters and all active men, it's a must to have clean and clear skin that allows the pores to breath and muscles to shine. The traditional methods of shaving can actually clog pores and damage the skin. Unfortunately, many of today's most successful, athletic men and bodybuilders continue to use that outdated and old-school method.
The SmoothTech|Pro™ (https://www.smoothtechpro.com/how-it-works/) team set their sights on turning the marketplace upside down. In doing so, they have developed a smarter way to remove unwanted hair. Pure and simple, it's truly a revolutionary hair removal system for men. The SmoothTech|Pro™ System is the first and only end-to-end system designed to help eliminate irritation, bumps and ingrown hair. The core 2-Step system has built-in skin therapy to soothe, purify, and hydrate the skin before, during and after the hair removal process. The WINGMAN is a back applicator that allows men to remove their own back hair unassisted. And unlike lasers, SmoothTech|Pro™ works on all skin tones. It's a COMPLETE SYSTEM FOR SMOOTHER, CLEARER SKIN.
The SmoothTech|Pro™ System team will make their Fitness and Bodybuilding outreach debut at the Arnold Sport Festival Fitness Expo March 2-5 in Columbus, Ohio (http://www.arnoldsportsfestival.com/the-arnold/expo) at Booth 2307.
Managing Partner Eric L. Brooks says, "We're looking forward to attending and exhibiting at this year's Arnold Fitness Expo in booth #2307. Our initial and highly successful roll-out was targeted toward the on-the-go male. Now, we're happy to announce we've begun our branding and marking push, focusing on our strong interest in connecting with the bodybuilding and sports enthusiast community. Our research and early advisors included the legendary Flex Wheeler, recent Mr. Olympia recipient Danny Hester and celebrity trainer Stan McQuay, all of whom approved and signed-off on our concept before we felt comfortable in launching the product line. Now we've come full circle and look forward to participating in the Arnold Sports Festival officially introducing our unique products to the industry."
The 2017 Arnold Fitness EXPO will again feature more than 1,000 booths of the latest in sports equipment, apparel and nutrition and two stages that host unique, non-stop competitions and entertainment that combine to make the Arnold Fitness EXPO the heart of the Arnold Sports Festival. The Arnold Fitness EXPO, in the main hall of the Greater Columbus Convention Center, is the nation's largest health and fitness exposition. It annually showcases leading businesses and organizations showcasing the latest trends in the industry. The Fitness EXPO is among the must-see attractions at the Arnold Sports Festival for many of the Weekend's 200,000 attendees.
About the Product: All SmoothTech|Pro™ products are made with natural or naturally derived ingredients and are engineered to bring the skin back to its natural hydration level to help eliminate skin issues. Most men suffer from dehydrated skin because they do not moisturize. The SmoothTech|Pro™ Body Wash and Regrowth minimizer contains moisturizing properties to do the job some men are known to neglect.
All SmoothTech|Pro™ products are free of the following ingredients that are known to either dry out, damage and or age the skin. SmoothTech|Pro™ products contain No Parabens • No Fragrance • No Sulfate • No Petrolatum • No Cruelty • No Synthetic Dyes • No Harsh Alcohols • No Phosphates • No Formaldehyde • No BPA.
Watch the video: https://www.youtube.com/watch?v=iMjOGZvvPdw
Read the blog: https://www.smoothtechpro.com/blog/
How it works: https://www.smoothtechpro.com/how-it-works/
Source: Smooth Tech Pro
Share:
---
Categories: Celebrities, Business News, Sports, Fitness, and Recreation, Exercise and Physical Fitness, Conventions, Trade Shows, Meetings and Events, Dieticians and Nutritionists
Tags: Arnold Sports Festival, Danny Hester, Flex Wheeler, Hair Removal System Arnold Sports Festival Fitness Expo, Men's Grooming, Smooth Tech Pro, Stan McQuay
---