The SDG5 People's Prize Announced at Skoll World Forum in Collaboration With 5th Element Group
Press Release
•
updated: Nov 20, 2019
Innovation Competition Allocates Prizes to Ventures That Raise the Most Crowd Funding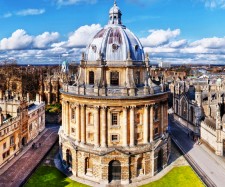 OXFORD, England, April 14, 2019 (Newswire.com) - ​​​As part of the Skoll World Forum events at Oxford University today, The People's Prize committee, together with global impact accelerator 5th Element Group PBC, announced The People's Prize with a starting prize purse of $100,000.
This is the first of three planned competitions from The People's Prize in 2019. Each Prize addresses one United Nation's Sustainable Development Goal ("SDG"). This first Prize will focus on Goal #5: "Gender Equality," emphasizing the empowerment of women and girls. It will be open to innovative non-profit and for-profit enterprises worldwide.
The SDG5 People's Prize will feature competitions involving various ideas, or NGOs, or programming priorities. The popular vote will help inform and direct clear outcomes.
Prize organizers will work to pair prize participants with mission-aligned brands, artists and influencers to help craft and amplify their Solution Story.
"The purpose of the SDG5 People's Prize is to mobilize awareness and funding for the most effective solutions for the empowerment of women and girls globally," said Bobby Kia, founder and Managing Director of The People's Prize. "It's also intended to highlight the crucial importance of women helping to lead the way in achieving the other Global Goals."
The People's Prize and 5th Element will work to find five forward-thinking brands to activate "Good Exchanges" for each of the five finalists, creating innovation teams to unlock funds for the brand's solutions each time people share the brand's innovation story.
"Coupling good exchanges with the People's Prize framework has the potential to catalyze significant funding for the UN SDGs," said Jim Van Eerden, 5th Element's President.
All activations, including viewing, sharing and donating, will happen on The People's Prize web/mobile platform.
"Many competitions are determined by a black box panel process," said Elissa Harris, 5th Element's Chief Impact Officer and Co-Chair of The SDG 5 Global Alliance. "We like the idea of having ordinary donors helping to decide which projects receive the Prize based on the stories, information and project definition shared about each solution to highlight their unique financial and emotional contribution."
Innovation teams will creatively engage their communities to participate or donate funding of any amount and the winners will be selected based on the total donations and amount of donations made to help fund each Solution Story.
Details of the allocation process and competition schedule will be released May 1, 2019.
About The People's Prize
The People's Prize creates goals-based collaborations and runs incentivized crowdfunding competitions to mobilize funding for the UN Sustainable Development Goals. www.PeoplesPrize.org
About 5th Element Group PBC
5th Element Group PBC is a global impact accelerator that creates "traffic on the bridge" between KPI-driven performance and SDG-aligned impact. The company's mandate is to achieve this with client-partners (donors, investors and brand leaders) through six practice areas, which integrate traditional and innovative impact strategies to facilitate "omniwin" value exchanges. www.5thelement.group
About The SDG5 Global Alliance
Born out of the Decade Of Women initiative launched at the United Nations, The SDG5 Global Alliance is a non-organizational, omniwin movement lifting the work of a wide range of SDG5 leaders and causes, with donations administered through The SDG Impact Fund. It has no staff and is directed by a team of pro bono Co-Chairs each year in an effort to lift inspirational and aspirational activations supporting the empowerment of women and girls (together with men and boys who share the vision!) all around the world. www.sdg5.global
About Skoll Foundation
The Skoll Foundation is a private foundation based in Palo Alto, California, with a mission to drive large-scale change by investing in, connecting and celebrating social entrepreneurs and other innovators dedicated to solving the world's most pressing problems. It makes grants totaling about $40 million each year. www.skoll.org
Source: 5th Element Group
Tags
Additional Links