The Running World Has a New Cannabis-Sponsored Athlete
KYND Cannabis Company announces that professional short-distance runner David Barbano has joined the company's popular ambassador program.
Press Release
-
updated: Jun 25, 2018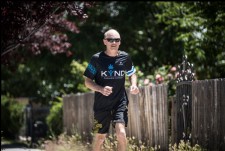 RENO, Nev., June 25, 2018 (Newswire.com) - In 2017, KYND Cannabis Company was the first marijuana distributor in northern Nevada with a professional athlete-turned-cannabis-ambassador – world-renowned professional cyclocross rider Teal Stetson-Lee. Less than a year later, the company has announced its second sponsorship with local short-distance runner David Barbano.
The South Lake Tahoe resident and cannabis activist has a wildly impressive record. David started racing in 2012 with zero training, debuting during a grueling seven-miler with a 3,000-foot vertical climb. Two weeks later, he won his first 5k, and in the six years since, David has entered back-to-back races nearly every month. In 2017, he had seven wins alone and he hasn't been off the podium in about a year.
Both KYND Cannabis Company and its newest athlete ambassador are excited to expand the conversation around cannabis by highlighting the benefits for athletes and outdoor recreation enthusiasts. While cannabis use in the professional athlete circuit is still not fully approved, medical professionals recognize the healing benefits of the medicine.
Between cannabis for race prep and recovery and David's arduous training at an altitude of more than 6,000 feet, the 50-year-old athlete is establishing himself as someone worth watching. Moreover, as an ardent supporter of the wonders of cannabis, he's worth listening to as well.
"Cannabis has many redeeming qualities that aid in anti-inflammatory and pain reduction measures for ailments across the board," said Dr. Sean Devlin, chief physician at the Washoe Wellness Center and co-owner of KYND. "This benefit can be used for chronic pain or sore muscles after an excruciating sports competition."
"There are so many people who just need to understand what it can do," said David. "I want to make that first step to help generations to come. KYND offers products that have incredible value for improving people's quality of life, which aligns with my personal values."
The cannabis industry is rapidly changing, both medically and recreationally, on local and national levels. Having the right voices sharing the message of responsible use is an integral part of KYND's mission.
About Kynd Cannabis Company
Kynd Cannabis Company boasts a team of seasoned industry professionals with over 70 years of combined cultivation and production experience. Kynd cultivates flowers that champion the healing power of medical cannabis and has been tailoring high-potency strains for over a decade. The company's leading cannabis extraction-based product line has been specifically developed to meet the widest variety of patient and customer needs. Kynd grows both CBD and THC-dominant strains and carefully crafts hash oil products driven by clean extraction methods using supercritical CO2.
For more information on Kynd Cannabis Company, visit kynd.com or email info@kynd.com.
Source: KYND Cannabis
Share:
---
Categories: Cannabis
Tags: athletes, cannabis, Kynd, nevada, professional
---