The Rosemark Group Presents the 7th Annual Harlem Turkey Drive With New York Yankees Dellin Betances & Whole Foods Market
Press Release
•
updated: Nov 6, 2018
Set to Feed Families at 7th Annual Thanksgiving Turkey Drive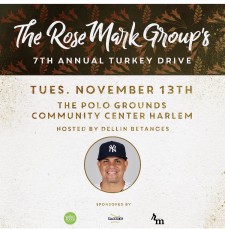 NEW YORK, November 6, 2018 (Newswire.com) - Families this Thanksgiving will not go hungry thanks to New York Yankees Dellin Betances, The Rosemark Group & Whole Foods Market. For the 7th year in a row, the Annual Harlem Turkey Drive is ready to provide turkeys and fixings for guests who might otherwise go without. Last year, more than 3,000 children and families were fed, once again Whole Foods Market has signed on again to donate the Thanksgiving feast.
"We plan to give away 500 Whole Foods turkeys," said Jaclyn Rosenberg, creator of The Turkey Drive, and founder, CEO of The Rosemark Group. "Thanks to our alliance of sponsors & volunteers, attendees will also receive a variety of organic, healthy sides dishes this year. Our mission is to give those less fortunate in our community healthy opportunities."
I'm so happy to be supporting the city I call home for the holidays. This year is very special for my wife Janisa and I as we help those in need for the holiday.

Dellin Betances , New York Yankees
The event will be held at the Polo Grounds Community Center in Harlem operated in conjunction with The Police Athletic League (PAL). The PAL is New York City's largest independent youth development not-for-profit organization. They operate diverse programs from Head Start, Day Care, and universal Pre-K programs; to elementary and middle school after-school programs; and summer day camps and summer Playstreets. Competitive and recreational sports for children of all ages is a cornerstone of the youth development strategy. In it's over a century of service, PAL is continuing its evolution and remains a vibrant and vital New York City institution.
Turkey Drive Information:
WHAT: 7th Annual Thanksgiving Turkey Drive
WHEN: Tuesday, November 13, 2018
TIME: 6:30 P.M. Start /Volunteers should arrive by 4:30 P.M. for turkey unload &/or 5:00 P.M. for packing
About
Whole Foods Market is a dynamic leader in the quality food business. We are a purpose-driven company that aims to set the standards of excellence for food retailers. Whole Foods Market Harlem is supplying over 500 Thanksgiving turkeys to families in need for the 7th year in a row.
The Rosemark Group
The Rosemark Group is a boutique real estate firm that specializes in athlete relocation. Founder and CEO, Jaclyn Rosenberg is a member of the Children's Village Leadership Council and has been an active member in the Harlem Community for over a decade. Jaclyn has channeled her own experiences and lessons into dedicating herself to the community and giving to those less fortunate.
The PitCCh In Foundation
The PitCCh In Foundation was established in 2008 with its first event in Cleveland and incorporated as a 501(c)(3) in 2010 by New York Yankees pitcher CC Sabathia and his wife Amber to help the communities that have given them so much. With the support of CC's mother, Margie Sabathia-Lanier, and a dedicated team of professional staff and volunteers, the foundation showcases three signature programs that provide young people with the tools to be successful in school and on the field: All-Star Baseball Clinic, Youth Backpack Program, and Field Renovations. CC and Amber were motivated by not only the idea of giving back but by developing a long-term platform with the foundation to provide young people with the belief in their abilities and to make their dreams become a reality.
Dellin Betances
Dellin was born and raised in Manhattan and grew up idolizing the NY Yankees. He would attend games as a kid with his father and was fortunate enough to be in the stands for David Wells' perfect game in 1998. The son of two Dominican immigrants, Dellin spent the majority of his childhood in the Lillian Wald Housing Projects on the Lower East Side. Standing at an impressive 6 feet 8 inches, Dellin originally considered pursuing a professional basketball career, before his brother was able to convince him otherwise. His parents currently reside in a house in Bogota, New Jersey, the first item Dellin purchased with the money he received from his 2006 signing bonus. He is a true New Yorker, through and through and is living out a childhood dream by being able to put on the Yankees stripes every day and go to work. A first relief pitcher in the history of the game to record 100 strikeouts in 5-straight seasons. 4X American League All-Star, 2014, 2015, 2016, 2017, AL Rookie of the Year Finalist, and in 2014 Broke Mariano Rivera's Yankees Strikeout Record for a Reliever.
Source: The Rosemark Group
Related Media