The Right Tools Make Fall Yard and Garden Jobs Easier
Press Release
•
updated: Oct 17, 2017
Home Garden and Homestead picks the best tools for autumn yard chores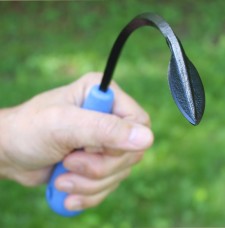 Santa Fe, New Mexico, October 17, 2017 (Newswire.com) - ​​Homeowners and gardeners know this truth: having the right yard and garden tools is an essential component in maintaining a healthy and attractive yard and garden. From pruners to shovels, garden tools help to keep plants healthy and yards looking great.
Sometimes a well-designed tool is required to efficiently weed a perennial bed or vegetable garden. Sometimes the tool you need provides a time-saving and labor-saving way to dig holes when you're planting flower bulbs. And sometimes the right garden tool can make all the difference when pruning dead branches from a tree, or gathering and hauling off fall leaves.
Weeding gardens just got easier
Good gardeners want well-made tools that make gardening easier—and more enjoyable. Removing weeds from flower beds and vegetable gardens can be tedious, but having the right tool makes the job go much faster. A new hand tool called the CobraHead "mini" Weeder and Cultivator is the perfect tool for precision weeding in garden beds. The sharp, tempered steel blade cuts through even the toughest clay, and it makes short work of cleaning weed-choked gardens.
The CobraHead "mini" Weeder is smaller and lighter than the original CobraHead Weeder, so it's easier to use in tight spaces. The comfortable, ergonomically designed handle (made from a mix of recycled plastic and wood fiber) fits perfectly in smaller hands, so women and seniors love it. The handle is molded around the unique blade to ensure it can never work loose. The CobraHead "mini" Weeder and Cultivator hand tool sells for $21.95 directly from the manufacturer at www.cobrahead.com.
Why dig holes-- drill them instead
Fall is the perfect time to plant tulip, daffodil and other spring-flowering bulbs. Instead of digging holes for the flower bulbs you plant this fall, why not drill them with a bulb auger? A sturdy metal planting auger helps you plant more bulbs in less time with a lot less work.
The 3-inch by 7-inch bulb auger from Power Planter breaks up soil as it drills planting holes, which gives bulbs great soil contact from the start. Just drill a planting hole using the bulb auger and lift the loose dirt out with the auger. Drop a bulb into the hole, where a nice bed of loose dirt waits in the bottom. Then fill the hole with the remaining loose dirt. It's as simple as that. The auger's 7-inch length digs every hole to the perfect depth.
Get the Power Planter 3" x 7" bulb auger and the 2" x 7" planting auger (great for spring flower planting) together for $37.79 directly from the Power Planter online store at www.powerplanter.com, and shipping is free.
Loppers are great for fall pruning—and they make a great holiday gift
The best gardeners know a secret that beginners have yet to discover: better tools can make anyone a better gardener. A high-quality pair of loppers is a great tool when it's time to prune a tree, trim a hardy shrub or even cut off dead canes from a favorite climbing rose.
The Fiskars Power-Lever lopper features precision-ground steel blades and durable Softgrip handles for maximum comfort and stability. The adjustable arms extend to more than three feet long, making it easier than ever to reach high branches and cut them with ease and precision.
The Power-Lever mechanism utilizes compound lever technology, which maximizes leverage and doubles the branch-cutting capabilities of regular loppers. The fully hardened steel blades are coated to resist rust and decrease friction—so it still cuts like new even after years of heavy use. These loppers, which are covered by a lifetime warranty, sell for $36.95 at www.waysidegardens.com or call 800-845-1124.
An EZ way to gather fall leaves
Raking and gathering leaves in the fall can be a back-breaking chore. Using a power leaf blower makes the job faster, but the noise and pollution created by power equipment creates its own set of problems. Homeowners looking for an easier and greener solution to fall yard cleanups now have a new, cleaner and quieter option.
The patented EZ Leaf Hauler is like a giant dustpan for leaves. It has an innovative yet simple design that makes it easy and efficient to rake away large piles of leaves. It holds four times more leaves and debris than a wheelbarrow, and it has six built-in handles for easy transport. With the EZ Leaf Hauler, just stake it, rake it, and take it away. The EZ Leaf Hauler retails for $34.99 from ezlawnandgarden.com, or call 401-339-7836 for more information.
To see more tips and ideas for a better home and garden—plus great ideas for holiday gifts, visit www.HomeGardenandHomestead.com.
Source: HomeGardenandHomestead.com
Related Media