The Remanufacturing Industry Council (RIC) Announced the Third Annual Reman ACE Award Winners
Press Release
•
updated: Oct 16, 2019
A reception and dinner were held in honor of the Reman ACE Award winners at the RIC-RIT World Remanufacturing Conference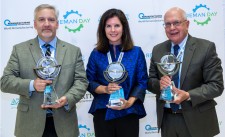 ROCHESTER, N.Y., October 16, 2019 (Newswire.com) - ​Remanufacturing leaders filled the University Gallery at the Rochester Institute of Technology on October 9th to celebrate three outstanding remanufacturers and their work. With over 150 people in attendance, three winners were announced, one in each category, based on RIC's mission to Advocate, Collaborate, and Educate on behalf of the remanufacturing industry.
Advocate
Don Bigler, Chairman of the Board, BBB Industries, LLC (BBB), is a long-standing advocate for remanufacturing. Don founded BBB over 30 years ago and has since grown the Company to become the leader in the remanufacturing of starters, alternators, hydraulic and air disc brake calipers, power steering products, and turbochargers for the OEM, personal and commercial vehicle aftermarket industries. With over 30 years in the industry, Don's impact on the automotive sector can be attributed to BBB's development of a process-driven remanufacturing process and the Company's commitment to the principles of continuous quality improvement and sustainability.
Collaborate
Jena Holtberg-Benge, General Manager, John Deere Reman, provides strategic direction and leadership for the global remanufacturing business within Deere, including the responsibility and oversight of facilities in Springfield and Strafford, Missouri; Edmonton, Alberta, Canada; and distribution globally. Jena is the RIC Board Secretary. With her strong leadership, enthusiasm, and collaborative spirit, she took on the chairmanship of the first-ever Remanufacturing Association Alliance (RAA). Along with the RAA, she has played a vital role in the success of global Reman Day.
Educate
Bill Davies, Founder and Vice President, Davies Office, is a nationally recognized leader in green remanufacturing and an expert in sustainable office furniture solutions. Bill has not only made Davies a pioneer and leader in its field, but he has also expanded opportunities for organizations industry-wide. As a long-standing member of the RIC and Chairman Emeritus, Bill Davies exemplifies professionalism and dedication to the industry. Reaching far beyond his sector, Bill is known and respected by his peers around the globe.
The event was emceed by Vaughn Henson, Vice-Chair, RIC, and Director of Business Development, SRC Holdings Corp. Mr. Henson spoke about the importance of Remanufacturing to growing economies and to sustaining and preserving precious resources. Henson pointed out that, "This was our third year to present the ACE Awards, and it's clear that their popularity continues to rise. I expect even more nominations next year." He continued by asking the attendees to nominate individuals that are making a positive impact for remanufacturing.
Remanufacturing ACE Awards trophies were presented to each of the winners along with a scholarship, one in honor of each winner, to award within their communities, encouraging future industry leaders to become more engaged with remanufacturing before graduation.
The Remanufacturing ACE Awards is an international competition sponsored by the Remanufacturing Industries Council. The ACE Award is granted to an inspiring person or company that is recognized for their leadership in creating positive change for the remanufacturing industry and sustainability. Nominations are judged by a panel of industry leaders and partners from the RIC Remanufacturing Association Alliance.
Nominations for 2020 can be made at RemanACEAwards.org.
For further information about the Remanufacturing ACE Awards, contact Jenn Brake at jbrake@remancouncil.org or 585-380-8041.
Source: Remanufacturing Industries Council
Related Media
Tags
Additional Links