The Paulist Fathers Partner With BrandCulture for New Communications Platform, Identity System & Web Presence
The First Community of Roman Catholic Priests Founded in America Taps Los Angeles-Based Strategic Branding Agency to Refresh and Renew 150+-Year-Old Institution
Press Release
-
updated: Apr 20, 2016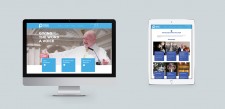 New York, April 20, 2016 (Newswire.com) - ​​​​​​​​​Across the United States, the Paulist Fathers are a community of Roman Catholic priests committed to reaching out to all people, seeking unity with individuals of other faiths and helping people find peace in their lives. The Paulists recently recognized an opportunity to develop an engaging, more modern brand to increase awareness and understanding of the community, advance their mission and assert continued essential relevance in contemporary American life. This initiative was in keeping with the admonition Paulist founder Servant of God Father Isaac Hecker, C.S.P. to "present old truths in new forms." To do so, the Paulists enlisted Los Angeles-based Brand Culture Company, LLC to develop new messaging and communications, create a fresh and lively visual identity system and restage a revamped interactive media presence.
Following extensive research and interviews with priests and laity throughout the Paulist community, BrandCulture collaborated with the Paulist Fathers to develop a new brand platform and visual identity that distinguished the community in a unique, modern way. The new look strikes an approachable balance between modern and friendly, while supporting the stature and gravitas of the storied heritage of service of the Paulist Fathers.
The new logo features a dove evoking the Holy Spirit enclosed in a stylized "P" designed as a speech bubble to signal The Paulist commitment to communicate and engage members of Catholic Church as well as those outside or on the edges of faith, or as Pope Francis has said, "the periphery." The new logo inspired a series of symbols that also play a strong part in the visual identity to reinforce the friendliness and approachability of the many activities and outreach of the Paulists across different missions and ministries.
"We are excited by this new look for our community and the renewed Spirit that comes with it. In a very focused way, it expresses our Gospel call to be at the intersection of faith and culture," said Fr. Eric Andrews, C.S.P., President of the Paulist Fathers. "We are particularly grateful to Eric Pinckert, Jon Hutson, and the entire team at BrandCulture for their tireless efforts to work with us and help us express our unique mission to America."
"We are honored the Paulist Fathers entrusted us with the opportunity to further inspire and advance their work in the world," said Eric Pinckert, Managing Director of BrandCulture. "We are elated that the community now has a new brand platform, visual identity system and website that represent the Paulist mission and reflect the openness, warmth and welcome we have come to understand and appreciate."
The Paulists launched the new identity system and website on April 18, 2016.
###
About the Paulist Fathers
The Paulist Fathers, founded in 1858, is a community of Catholic priests who work in missions, media, campus ministries, parishes, the arts and more.  The first community of Catholic priests founded in the United States, The Paulist Fathers are known for their media ministries, including: Paulist Press, the oldest Catholic publishing house in America; Paulist Productions, a film and television production company; Busted Halo, a website and radio program for young adults and spiritual seekers; Paulist Evangelization Ministries, a creator of webinars and parish-based programs. Engaged in campus ministry on secular university campuses, parishes in major cities, and missionary work across the country, Paulists are recognized for their missionary zeal and welcoming spirit.
About Brand Culture Company, LLC
BrandCulture combines insightful strategy, inspired design, leading technologies and rigorous execution to create transformative brand and culture-building programs that deliver immediate impact and long-term results. Headquartered in Los Angeles, BrandCulture works across industries and markets to help clients ranging from the enterprises known all over the globe to startups taking the world by storm define clear brands and build strong cultures. BrandCulture turns good businesses into great brands. Learn more at BrandCulture.com.
Source: BrandCulture
Share:
---
Categories: Marketing, Non Profit, Non-Profit Schools and Institutions, Religion, Philanthropy
Tags: brand strategy, catholicism, marketing, mission, Paulists, religion, The Paulist Fathers
---