The Only Spoiler-Free Canada Day App Released in 2016
Press Release
-
Jun 27, 2016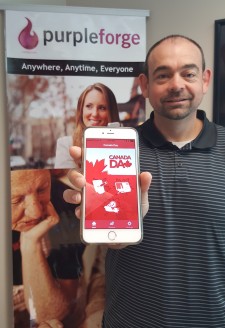 Ottawa, Canada, June 27, 2016 (Newswire.com) - Purple Forge has updated both the Apple and Android version of the Official Canada Day mobile application. The app includes all the major Canada Day celebration schedules across Canada, a postcard feature to create and share the joy and happiness that is Canada Day, and other useful stuff when you are out and about on July 1st.
"If you are looking for an app created by Canadians, designed for Canadians and truly useful only on one day of the year, then this is the app for you" said Corey Hicks, Project Manager for Purple Forge. "We wanted to make it easier for Canadians to find a location with their friends and family to drink beer, eat beaver tails and enjoy a poutine while fireworks are exploding in the sky."
Every June, Corey gets a reminder to reach deep into the back of his desk drawer, yank out and blow the dust off of the Official Canada Day app. The only difference this year is that our marketing department is not available to write a press release since they are busy working on Smart City Apps.   So now, not only is Corey Hicks the Vice President of Special Products that do not Generate Revenue, and the Official Spokesman of the Official Canada App - he is also writing this press release (I bet you couldn't tell).
Enjoy some random pictures of Corey that have nothing to do with the Official Canada Day app.
The application is downloadable from the Apple iTunes and Google Play stores and is supported in both English and French.       
On behalf of myself, Corey Hicks, and the entire Purple Forge team – have a great Canada Day!
About Purple Forge
Purple Forge is an award-winning Software as a Service (SaaS) provider of mobile-first community engagement and self service solutions. Our customers include: Governments, Venues, Telecommunications Service Providers, Financial Institutions, Healthcare and Membership-based Organizations. Purple Forge's platform and applications offer a wide range of features that span web, mobile, wearables, social, location based services, iBeacons and the Internet of Things. Our solutions increase customer engagement, provide insights into unmet customer needs and reduce service delivery costs.  Purple Forge is an IBM Watson Ecosystem Partner.  Purple Forge is partnered with TELUS for Smart City solutions.  For more information about Purple Forge, please visit http://www.purpleforge.com.
Source: Purple Forge Corp
Share:
---
Categories: Town and City Government, Conventions, Trade Shows, Meetings and Events, Arts and Entertainment
Tags: Canada, Canada Day, Family, Federal, Holiday, Municipal, Provincial
---