The Most Incredible Press Release About Free Canada Day Stuff You'll Ever Read
Purple Forge has updated both the Apple and Android version of the Official Canada Day mobile application. The app includes all the major Canada Day celebration schedules across Canada, a postcard feature to create and share the joy and happiness that is Canada Day, and other useful stuff when you are out and about on July 1.
Press Release
-
updated: Jun 22, 2017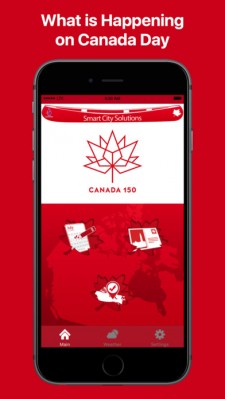 OTTAWA, CANADA, June 22, 2017 (Newswire.com) - "July 1, 2017 is going to be the most jam-packed, fun-filled, memory-packed day in Canada's history and you're going to need some help staying up to speed with all that's happening. There's going to be so much to do and so many sights to see this Canada Day that it would be impossible to keep up with every event unless you have the Purple Forge Official Canada Day App!" said Tobi Oluwole, Account Manager for Purple Forge. ​
"This year Purple Forge launched our CORI AI community engagement and self-service product for governments and associations! Which means our Official Spokesman of the Official Canada App and CORI-creator, Corey Hicks, is pretty busy making sure that the platform is as intelligent as he is." explains Tobi. "So now, I'm in charge of press releases for Single-Use Solutions that aren't utilized more than once a year. It's a new gig but I'm loving it.
"I hail from Nigeria and this year I decided to be as Canadian as I could possibly be in preparation for Canada's 150th celebrations, so I picked up hockey.   I've attached a photo from my first game (which was a blowout)."
You can get your FREE Purple Forge Official Canada Day app from the Apple ITunes and Google Play stores and is supported in both English and French.
"From myself, Tobi 'Goal Machine' Oluwole, and the Purple Forge team – Happy 150th Birthday Canada!"
About Purple Forge
Purple Forge is an award-winning Software as a Service (SaaS) provider of community engagement and self service solutions. The company's customers include: Governments, Venues, Telecommunications Service Providers, Financial Institutions, Healthcare and Membership-based Organizations. Purple Forge's applications offer a wide range of features that span web, mobile, wearables, social, location based services, Artificial Intelligence and the Internet of Things. Our solutions increase customer engagement, provide insights into unmet customer needs and reduce service delivery costs. Purple Forge is an IBM Registered Business Partner. Purple Forge is partnered with TELUS for Smart City solutions. For more information about Purple Forge, please visit http://www.purpleforge.com.
Source: Purple Forge Corp
Share:
---
Categories: Mobile and Smart Phones, Vacations and Travel, Arts and Entertainment
Tags: Android, Canada Day, Free, Holiday, iPhone, Mobile App
---