The new short film LAYERS explores the emotional depths of living with ALS
Press Release
•
updated: Apr 10, 2019
Samera Entertainment is proud to announce the Indiegogo campaign for the harrowing new short LAYERS from Angry Bee Films.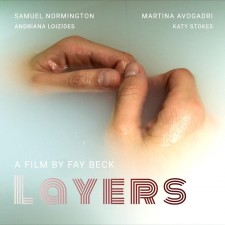 LOS ANGELES, April 10, 2019 (Newswire.com) - Preproduction has begun on the short comedy-drama LAYERS from Angry Bee Films and producers Graham Jones, Martina Avogadri and Fay Beck, who also writes and directs. Samera Entertainment invites you to help bring this important story to the screen.
The story of LAYERS follows: "A personal caretaker who is asked by his patient and friend suffering from ALS, to help her end her life."
An Indiegogo campaign has been launched to secure additional funding and to also spread the word on this upcoming film. Their goal is to raise awareness of ALS (Amyotrophic Lateral Sclerosis) and to shed light on the complex challenges that test the relationship between an ALS sufferer and their caretaker.
To achieve these goals, the filmmakers are diving into controversial topics commonly brought on by the extreme circumstances these characters have to face including loneliness, mental health, physical suffering and assisted dying.
Martina Avogadri also stars as Willow, a woman in the late stages of ALS. The inspiration for her character's journey is rooted in Avogadri's own experience of losing a family member to ALS. It is an illness she has explored through her experiences in acting and it comes full circle here in LAYERS.
Samuel Normington stars as David, Willow's caretaker, friend and confidant who is tasked with the moral dilemma of placing his patient's life in his hands. Avogadri and Normington will bring a powerful dynamic to the screen that will touch on the most vulnerable aspects of humanity.
And you can help bring this vision to life by donating to the Indiegogo campaign for LAYERS. So far they have raised almost $2000 of a $9144 goal and the campaign will be ongoing for the next month. To learn more about this intense social drama, click below:
https://www.indiegogo.com/projects/layers-a-short-film
ABOUT ANGRY BEE FILMS and GRAHAM JONES:
Graham Jones is a producer at Angry Bee Films. Jones turned his lifelong love for film, into a passion for producing movies and making his own projects. In 2013 he co-founded Angry Bee Films with Fay Beck. Graham Jones has produced 4 short films through Angry Bee Films. Since the company's inception, he has been busy advancing the company's profile through involvement in external projects.
ABOUT FAY BECK:
Fay Beck is a writer, director, and producer. Fay has written two feature film scripts and is beginning work on a third. Her second short film, The Breakup, has recently been selected for inclusion in the ARFF Barcelona // International Awards 2019, in the category "Best Experimental Short Film." The same film was a semi-finalist in the European Cinematography Awards in the category "Best Silent Film." Even more recently, the Breakup has been selected and will screen at the Cyprus International Film Festival in June 2019.
ABOUT MARTINA AVOGADRI:
Martina is an actress and film producer. She has acted in short films, TV series' and on stage, and will soon make her feature film debut, portraying one of the main characters in the film. Martina's work and research on ALS, an illness she has been personally touched by, inspired the character of Willow, the central character of Layers.
Source: Samera Entertainment
Related Media
Tags
Additional Links