Stay Up to Date With Chloe's Chronicles and Enjoy These 2 New Interviews
Press Release
•
updated: Jul 23, 2020
Samera Entertainment offers an inside look at two fresh voices in modern filmmaking.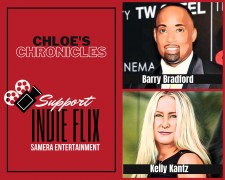 LOS ANGELES, July 23, 2020 (Newswire.com) - ​​Chloe's Chronicles is an ongoing series of articles that provide both insight and enlightened perspectives on the state of film-making in the world today. Join us for two Q&A sessions featuring actor/producer/writer Barry Bradford and media marketing maestro Kelly Kantz.
Barry Bradford joins us to discuss his career thus far and goes in-depth about his starring role on The Tramp, an upcoming television series where he plays Jon Light, a homeless man struggling to survive on the streets of New York. Barry talks about how he prepared for the role by actually braving the streets of New York for a few nights and volunteering at homeless shelters around the city. He encourages others to do whatever they can to solve the homelessness epidemic in America because that uncertain fate can befall anyone. It was of the utmost importance to Barry that he played his Tramp character with respect and dignity.
Barry Bradford also elaborates on his actor's journey to find characters that challenge and inspire him, no matter what their occupation or social status. His strengths as an actor have given him the opportunity to work with numerous legends in the industry including Russell Crowe, Kevin Costner, Spike Lee, Sidney Lumet, and Kathy Bates. Barry's interview is a rich and informative experience and a must-read for anyone who aims to make it in showbiz.
To read Chloe Brown's Q&A with Barry Bradford click here.
Our next featured interview is with Kelly Kantz. Kelly is an innovative media and marketing trailblazer who joins us to discuss the ever-evolving model for successful media. She also talks about her journey through the entertainment industry, the importance of networking and making contacts. And she also talks about her experience with RFD-TV and her stint as vice president of programming for Youtoo America, Youtoo America, BizTV, and BizTalkRadio. She discusses what prepared her for that role, and the differences between her responsibilities at each respective company.
Kelly Kantz's expertise in marketing is explored from the ground up from her early days as a marketer for Wild Bill's Western Wear and how that led her to today as head of her own company, Kantz Media LLC. It is an eye-opening and informative interview about what goes on behind the scenes of media marketing.
To read Chloe Brown's Q&A with Kelly Kantz click here.
Stay up to date with Samera Entertainment and check out Chloe's Chronicles for more independent film news.
Until next time, be creative and #supportindieflix
Source: Samera Entertainment