The New Generation Move: "We Are on the Moon" by Lucy Monciel and Ricardo Padua
Press Release
-
updated: Aug 3, 2017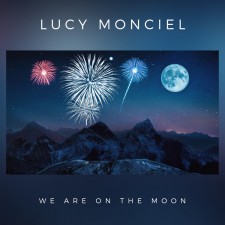 New York, NY, August 3, 2017 (Newswire.com) - We R On The Moon was born out of a collaboration of Ricardo Padua with Lucy Monciel. Lucy's eastern vocal projections blend so well with Ricardo's unique tropical EDM production giving it a surreal feel and driving groove. This is becoming the most catchy and surprising song for a party you would definitely need to include in your playlist this year.
The Message of the song is live your life in a bold way, seize the moment as you will never go back to the point where you felt like reaching the moon. The song's imagery is driven by a group of teenagers chasing fun and partying in big style. They are promoting fun and make fun contagious. We Are On The Moon is the new move of the century.
Lucy Monciel is an established singer songwriter with multicultural beliefs. She got attached to music through classical instruments, explored rock for a while as part of a band and then she released her first single "Tahitian blue" as a songwriter collaboration. Since then she released several other singles in various genres. She is constantly re-defining her own style based on her particular vocal projections that rightfully emphasize her musical versatility as "box of voices".
Ricardo Padua, is an accomplished musician, record producer, composer, songwriter, arranger, and music executive. Due to his multi-dimensional talent, he has managed to create a sound that's all his own. He is known for his experimental, vivid club productions and modern sound.
I strongly recommend to check out this new single release that will be the next phenomenon in stores starting with August 3rd till August 9th. Look no further than "We Are On The Moon" with Lucy Monciel and Ricardo Padua.
Find out more about the singer Lucy Monciel online on Twitter, Instagram, Facebook, Soundcloud. Find out more about the producer Ricardo Padua on Soundcloud and Facebook.
Source: Lucy Monciel, Ricardo Padua
Share:
---
Categories: Music, Artists, Arts and Entertainment
Tags: beach party, evening party, fun, love, lucymonciel, ricardopadua
---