The Most Comprehensive, Personalized Soft Skills Curriculum Ever Developed is Now Available Online
Press Release
•
updated: Sep 25, 2017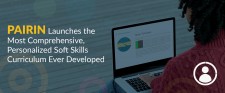 DENVER, September 25, 2017 (Newswire.com) - Proven in the classroom for years, PAIRIN announces the launch of its new online soft skills curriculum. The over 300 online micro-lessons, and more than 400 combined exercises, handouts, and rubrics now form the most expansive soft skills curriculum ever developed for online usage.
PAIRIN personalizes soft skills development to career goals by using its survey results to automatically prioritize curriculum based on an individual's career goals and associated skill gaps. Individuals can select a role from PAIRIN's arsenal of jobs mapped to the U.S. Department of Labor's O*NET database to identify the skills needed for their desired job or career path. With just a click, they can access PAIRIN's curriculum recommendations and start developing the skills needed to achieve their desired position. Organizations and state entities can also license the platform to focus curriculum delivery based on specific jobs or careers from local datasets. For example, a business can customize the list of career options in the system to only display the roles that are offered at their company, focusing curriculum delivery to the organization's internal career paths.
This curriculum was developed by our team of experts and proven over many years in many contexts; but what makes our offering unique is the personalization.

Michael Simpson, PAIRIN CEO and Co-founder
Users can start developing skills at their own pace using the user-friendly, engaging, online platform after taking the short 7-minute survey. In addition, PAIRIN's online curriculum can be integrated into any SCORM-compliant learning management system (LMS) to easily distribute the content without the need for customization.
"Proficiency in the soft skills we measure are proven to be the primary reasons people get promoted or fired, and how individuals find success in their life-long pursuits," said Michael Simpson, PAIRIN CEO and co-founder. "This curriculum was developed by our team of experts and proven over many years in many contexts, but what makes our offering unique is the personalization. The PAIRIN system delivers exactly what each individual requires in the order proven to be most effective," Michael added.
PAIRIN measures and develops soft skills because they are 75% of what is needed for long-term job success. PAIRIN's unique approach targets the breadth of workforce development - from students and career seekers to the businesses hiring from those programs, making its broad knowledgebase extremely valuable at each step of the workforce readiness pipeline.
The PAIRIN curriculum is offered as B2C or B2B offerings. Individuals can take The PAIRIN Survey for free, identify their strengths, select their career path, and the curriculum is prioritized and delivered directly into their personalized console. Licensing is as little as five dollars a year per module, or sixty dollars for all 300 lessons. Discounts are available based on the size of the organization. PAIRIN's use of standards also enables partners to license the curriculum to integrate into their HR, benefits and LMS platforms.
About PAIRIN
PAIRIN is a social enterprise software company whose mission is to make education relevant and hiring equitable. The PAIRIN Readiness Management SystemTM is the world's first industry independent cloud-based solution for integrating soft skills development and matching into any program or company. Recognized as one of "The Top 50 Coolest New Companies in America" by Business Insider in 2015, winner of the 2017 Denver Chamber of Commerce Start-Up of the Year award and the 2017 Colorado Companies to Watch, PAIRIN continues to lead the skills-based talent pipeline evolution for education and industry. Find out more at www.PAIRIN.com.
Source: PAIRIN, Inc.
Related Media
Tags
Additional Links