The Last Straw? Reno Bar Owners Will Say Goodbye to Plastic Straws
Press Release
-
updated: Mar 1, 2018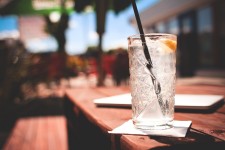 Reno, NV, March 1, 2018 (Newswire.com) - ​Local business owners from the Brewer's Cabinet, Sierra Tap House, and Ole Bridge Pub have joined forces to work towards a world free of plastic pollution and its toxic impacts on humans, animals, waterways and oceans, and the environment.
There are tens of thousands of landfills across the globe. Buried beneath each one of them, plastic leachate full of toxic chemicals is seeping into groundwater and flowing downstream into lakes and rivers.
Reno, Nevada business owners Michael Connolly, Zachary Cage and Chris Khal own and operate successful establishments located on the iconic Truckee River in the Downtown Reno Riverwalk District. Knowing that general trash and plastic falling into the river and parks is a continual concern for them and their staff. Everything suffers including tourism, recreation, business, the health of humans, animals, fish, and birds—because of plastic pollution.
"We are proud of the area we live, work and play, and the lakes, rivers and surrounding ecosystem are an essential part to the lifestyle of our companies and our families," said, Michael Connolly, business owner. "This is why we have collectively decided to change our straw policy to something more earth-friendly."
Starting March 1, the companies will launch the "no straw" campaign, which will focus on the elimination of single-use plastics where they will enforce new service procedures in hopes to bring awareness through individual outreach efforts and help all food-service business make the transition to a safer choice for our environment.
Restaurants and bars can influence their customers with what they serve and how they help it. Plastic most often used in straws for your favorite happy hour cocktail, or midday-soda is a durable material made to last forever, yet 33 percent of it is used once and then discarded. Plastic cannot biodegrade; it breaks down into smaller and smaller pieces.
"Our staff does not offer straws automatically, but we do have straws in our establishments," Chris Khal, co-owner Ole Bridge Pub said. "The customer makes their own decision on if they want to take a straw or not. Unfortunately, most people do take a straw which is why we have switched to a more suitable paper-friendly option."
If patrons want to help business when dining out, they can support the campaign by taking the 4Rs Pledge:
1. REFUSE disposable plastic whenever and wherever possible. Choose items that are not packaged in plastic, and carry your own bags, containers and utensils. Say 'no straw, please.'
2. REDUCE your plastic footprint. Cut down on your consumption of goods that contain excessive plastic packaging and parts. If it will leave behind plastic trash, don't buy it.
3. REUSE durable, non-toxic straws, utensils, to-go containers, bottles, bags, and other everyday items. Choose glass, paper, stainless steel, wood, ceramic and bamboo over plastic.
4. RECYCLE what you can't refuse, reduce or reuse. Pay attention to the entire life cycle of items you bring into your life, from source to manufacturing to distribution to disposal.
All three owners are hoping to encourage surrounding businesses and have the full backing and support of the Riverwalk Merchants Association a coalition of more than 78 business in the downtown area as well as hundreds of already supportive patrons. This campaign is one of many currently being recognized throughout the nation as part of a growing global alliance of individuals, organizations, businesses, and policymakers to reduce plastic pollution.
For more information about the above businesses please contact Courtney Meredith, Design on Edge, 775-746-0717, courtney@designonedge.com.
Source: Design on Edge
---
Categories: Environmentalism
Tags: brewers cabinet, campaign, ole bridge pub, plastic, plastic straw, recycle, reno, sierra tap house, straw
---
Related Files
Additional Links