National Automobile Museum Celebrates 30 Years in Reno
Press Release
•
updated: Oct 27, 2019
Museum offers Free Admission and a Flashback to the Past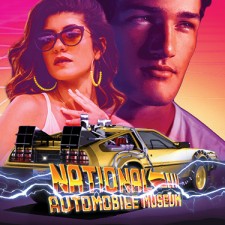 RENO, Nev., October 27, 2019 (Newswire.com) - Power up your DeLorean… recharge your flux capacitor… and get ready to experience Back to the Future just like Marty McFly! The Museum will take guests on a journey back in time during their 30th Anniversary celebration with free admission for the community, a 1980s themed flashback costume party with guest DJ, and photo opportunities with the Museums gold-plated DeLorean.
WHEN: November 9, 2019, starting at 9:30 a.m.
COST: Free Admission
WHERE: National Automobile Museum, 10 S. Lake St., Reno, Nev. 89501
The 1980s brought us neon, pop music, iconic fashion statements and a fascination with all things sci-fi. It also brought us the first days of the National Automobile Museum, which opened its doors nearly 30 years ago on November 5, 1989, in Downtown Reno. In honor of the Anniversary and another decade of preserved Automobile history, the Museum will be offering a free community day on Saturday, November 9. The celebration will include a 1980s themed flashback costume party with guest DJ, photo opportunities with the Museum's 24k-Karat Gold Plated 1981 DeLorean, and a chance to experience more than 200 automobiles on display.
"We are honored to be recognizing another notable milestone at the Museum by offering a free community day and welcoming families and car enthusiasts through our doors!" said Jackie Frady, president and executive director of the National Automobile Museum. "We look forward to celebrating many more years with the community."
The Museum's DeLorean is one of two gold-plated DeLoreans sold through a promotional campaign for American Express "Gold" cardholders. It appeared in the December 1979 American Express Christmas catalog for $85,000.
When the Museum opened in 1989, it was reported to have set the standard for automobile museums around the world. Since then, it has received many accolades, and today it is recognized as one of the 10 Best Automobile Museums in the U.S. The idea for this Museum developed following the death of Bill Harrah and the Museum exists today thanks to a persuasive public and the generosity of many.
This November will also kick off the Museum's annual giving campaign where guests can rev up their engines and pocketbooks by investing in and preserving this remarkable collection for the next 30 years.
For more information on the National Automobile Museum, visit www.automuseum.org, find us on Facebook or follow us on Twitter.
About The National Automobile Museum (The Harrah Collection)
One of America's Top 10 Automobile Museums, the National Automobile Museum showcases more than 200 remarkable automobiles. It features theatre presentations and audio tours in English and Spanish through 100,000 square-feet of galleries, exhibits and vibrant street scenes and accompanying artifacts that bring displays to life. The Museum is a dynamic and popular venue for special events as intimate as 60 and as large as 1,200 guests. It also features the Nevada Space Center, home of the Challenger Learning Center of Northern Nevada. For more information, visit www.automuseum.org.
Hours of Operation
Mon. - Sat.: 9:30 a.m. - 5:30 p.m.
Sun.: 10 a.m. - 4 p.m.
Tickets
Adults $12
Seniors $10 (62 and older)
Junior $6 (6 to 18 years old)
Children Free (5 and younger)
Members Free
Source: National Automobile Museum
Additional Links