The Joy of Giving; Myanmar Makes Top 10 Most Generous Nations Once Again
Press Release
•
updated: Dec 21, 2018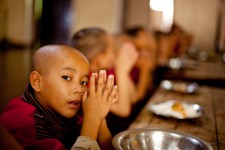 YANGON, Myanmar, December 21, 2018 (Newswire.com) - Just in time and in line with Christmas spirits, the Gallup organization announced the world's most generous nations after conducting surveys in more than 140 countries and Myanmar has made it again to the top 10. The country is no stranger to "most generous nation awards," with the CAF World Giving index having awarded the number one spot to Myanmar four consecutive years in a row, and includes Myanmar again in the top 10 in 2018.
The generosity engrained in the Myanmar people spreads amongst all religions and all ethnicities in this nation of 53 million people. Myanmar people have a strong sense of community and people come together to overcome hurdles; clearly seen when Cyclone Nargis, one of the most devastating cyclones in world history, hit Myanmar 10 years ago and the whole population joined hands to help the victims.
"Tourists visiting the country can witness and feel the generosity and strong sense of community and helping each other that is part of our tradition," says Ma May Myat Mon Win, Myanmar Tourism Marketing Chairperson. She continues, "While visiting Myanmar, tourists can participate in festivals that are often organized by communities or participate in the offering of the morning alms for the monks and nuns in the streets throughout the country."
The country has been recently opening up more for foreign visitors and relaxed visa regulations for India, Chinese, Japanese and Korean visitors. During the past year, the situation in Northern Rakhine state has put a halt on the growth of tourism and many people working in the tourism industry are struggling to keep their head above water due to lower visitors' number.
"At the end of the year the whole world is in a festive mood and we do hope that many people will follow the example of the Myanmar people and learn the joy of giving," says Sammy Samuels, head of the public relations committee of Myanmar Tourism Marketing and head of the Jewish community in Myanmar. "2018 wasn't a good year for tourism but we see that the public opinion is looking more critically to the Myanmar situation and realizes that punishing a whole nation is not the right thing to do. More people, publications and travellers speak out against the singling out of the whole nation and realize that visiting Myanmar is a good thing to do and we do foresee a comeback of tourism in 2019 as the country has so much to offer for travellers and we invite you to be enchanted by the generosity of the people."
About Myanmar Tourism Marketing
Myanmar Tourism Marketing (MTM) aims to promote Myanmar as a sustainable tourism destination that can be visited the whole year round. It is part of the Myanmar Tourism Federation and is mainly privately funded by key members of the tourism industry in Myanmar. The MTM team is happy to assist press and media to publish more about tourism in Myanmar.
Myanmar Tourism Marketing
No. 204, Bo Myat Tun Road (Middle Block) Pazundaung Township
Yangon, Myanmar
Tel: +95 - 9 977204456
Mobile: +95 9 966 961079
E-mail: pr.officer@tourismmyanmar.org
Website: www.myanmar.travel and www.tourismmyanmar.org
Facebook: www.facebook.com/myanmartm/
Instagram: www.instagram.com/visit.myanmar/
Twitter: www.twitter.com/MyanmarTM YouTube: https://www.youtube.com/c/VisitMyanmar
Source: Myanmar Tourism Marketing