The International Women's Entrepreneurial Challenge Presents 2017 IWEC Award to Dr. Giuseppina Foti
The organization hosts a gathering of some of the world's most successful women-owned businesses during its 10th anniversary conference
Press Release
-
updated: Nov 13, 2017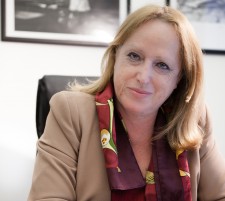 ROME, November 13, 2017 (Newswire.com) - Dr. Giuseppina (Pina) Foti, Managing Director at Accademia StudioItalia, will receive the 2017 IWEC award, honoring nearly 30 years of award-winning, innovative language education, training, and cultural programs.
IWEC (International Women's Entrepreneurial Challenge) is a New York-based international economic empowerment organization exclusively for women business owners, formed in 2007 with the assistance of the U.S. Department of State. In addition to the State Department, its founders include the Barcelona Chamber of Commerce, the Manhattan Chamber of Commerce (MCC), and the FICCI/FLO Chamber in New Delhi. IWEC's mission is to develop a global business network for successful women entrepreneurs, helping them gain and expand access to international markets by presenting a platform to exchange knowledge, experience and connections, and to promote dialogue among women entrepreneurs and business leaders throughout the world, an ecosystem with a combined income of over US$25 billion per year.
I am thrilled to nominate Giuseppina Foti for her trailblazing work to be a reference point for women in leadership roles in the Italian economy, promoting and strengthening the spirit of cross-collaboration and partnership among women leaders.
Since 2007, IWEC has gathered some of the world's largest and most successful women-owned companies in an intensive three-day program to inform, connect and celebrate the work of women entrepreneurs from all corners of the globe. This year's event is being held in Redmond, Washington State, on Nov. 12-14.  The conference closes with an awards gala celebrating the groundbreaking work of 53 new awardees from Africa, Asia, Europe, Australia and the Americas. The conference, named 'Connecting Women Businesses Globally: Accelerating Growth Through Innovation & Technology' is sponsored by Microsoft, who is also hosting the event at their global headquarters. 
"I am truly honored to accept the 2017 IWEC Award, and to connect with other women entrepreneurs from all over the world during the 10th anniversary conference.  We're grateful for this incredible recognition of our work to support culture, education, and connecting with people through language," stated Dr. Foti of her nomination.
Giuseppina (Pina) Foti has a Ph.D. in foreign languages and literature with a focus on modern philology and language instruction. She started her three companies, Accademia StudioItalia, ILS University and International Language School 30 years ago, and through her successful career, her schools have taught languages to thousands of students. Accademia StudioItalia, her school for Italian language and culture, received the Star Award from London's Student Travel Magazine for five years in a row, from 2012 to 2017. The school has an active role in the annual General Status of the Italian Language meetings held by Italy's Bureau of Foreign Affairs. Dr. Foti is a member of the Italian Equal Opportunities Committee of the Ministry of Labor and Social Policy, an adviser to the World Association of Women Entrepreneurs, member of the Italian Association of Women Entrepreneurs, and founding member of Enterprising Girls, a network for women in business. Further, Dr. Foti is Vice President of University Women of Europe (UWE).
Diane Thompson, CEO of Novaris is the past IWEC awardee who nominated Dr. Foti for the IWEC award. She stated of the awardee: "I am thrilled to nominate Giuseppina Foti for her trailblazing work to be a reference point for women in leadership roles in the Italian economy, and promoting and strengthening the spirit of cross-collaboration and partnership among women leaders. Giuseppina drives participation and initiatives that bolster the presence of women in key decision-making roles within the public and private sectors. She's a priceless addition to IWEC, and a role model for women' s business development efforts in Rome."
The November conference marks the first time that IWEC welcomes a Conference Chairperson, Her Royal Highness Princess Noor Asem of Jordan, who will provide part of the welcoming remarks and address the audience on empowering women's entrepreneurship in her region. Other conference speakers include one of the most influential businesswomen from China, Yang Lan, owner of Sun Media, one of the largest media conglomerates in that country; she was also the ambassador of the Beijing Olympic Games. She is joined by new IWEC Board member and keynote speaker Ibukun Awosika, Chairwoman of the Board of Directors of the First Bank of Nigeria Limited; Melanie Alavi, Director of Customer Technology Marketing at UPS; Fernando Hernández, Director or Supplier Diversity at Microsoft; Peter Martínez, CEO of Game Changer Tec; Jackie Sturm, Sr. VP of Supply Chain and Innovation at Intel; Aylton de Souza, Worldwide Enterprise Mobility and Security Business Lead at Microsoft, and other key drivers of innovation, technology and business development.
"IWEC understands that providing access, resources, and support to help enable the success of female entrepreneurs is key to ensuring women's active, sustainable participation in the global economy, and contributes to closing the gender gap. We provide a global forum to exchange knowledge, experience, and connectivity among women business owners, setting the stage for education, disruptive business opportunities, roads to joint ventures, and promoting social dialogue among women entrepreneurs and business leaders," said Ruth A. Davis, Chairwoman, IWEC.
Learn more about Accademia StudioItalia:
Contact IWEC: Nancy Ploeger, Executive Director, IWEC. np@iwecawards.com (917) 796-4201.
Press Office: Andie Farris, CF Creative. marketing@cf-creative.com. (954) 225-9342.
Source: IWEC
Share:
---
Categories: Business News, Educational News, Foreign Languages, Awards, Linguistics, English as a Second Language
Tags: Accademia StudioItalia, conference, event, IWEC, Microsoft, Nancy Ploeger, Pina Foti, WBE, women-owned business
---