Conchie Fernández-Craig of CF Creative Will Lead Workshops on Branding During People en Español's Poderosas Live Event in Miami on March 17
CF Creative is the winner of the 2017 Minority Marketing and Communications Firm of the Year award by the US Department of Commerce's Minority Business Development Agency.
Press Release
-
updated: Mar 15, 2018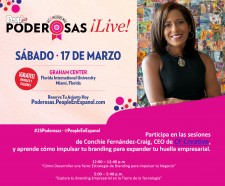 MIAMI, March 15, 2018 (Newswire.com) - Florida-based business development and branding expert Conchie Fernández-Craig will offer two presentations on personal and corporate branding during PEOPLE en Español's 5th annual Poderosas ¡Live! event, focusing on business and career development for women at every life stage. In celebration of Women's History Month, the free empowerment event is open to the community and will take place on March 17 from 10:30 a.m. to 6:00 p.m. at the Graham Center on the Modesto Maidique campus of Florida International University. All sessions will be presented in Spanish.
"I'm honored to have been invited to present at Poderosas ¡Live! and tremendously thankful to the U.S. Department of Commerce Minority Business Development Agency (MBDA), their Florida chapter, and PEOPLE en Español for selecting me to be among the leaders who'll share our expertise on developing the Latina business brand and increasing our mark on the US economy through entrepreneurship. As a Latina, it's pivotal for me to pay it forward to our community and share the processes and strategies that make us, and our clients, successful."
Conchie Fernández-Craig is co-owner and managing partner of CF Creative, a Fort Lauderdale-based marketing and communications agency with a particular focus on developing business and expanding markets for multicultural companies and entrepreneurs and linking US corporations to the growing US Hispanic demographic. Through strategic communications, video production, advertising, media relations, and demand generation solutions, CF Creative works with organizations like Microsoft, SDI International Corp, the International Women's Entrepreneurial Challenge, University of Miami, CB Richard Ellis and C-level US Hispanic entrepreneurs who wish to carve a larger footprint in the cross-cultural market.
"The demands of a highly competitive market make differentiation and brand expansion a must, not a wish. Branding is what separates us from our competitors, and Hispanic entrepreneurs and businesses especially need to streamline their communication and image to have access to more opportunities, funding, revenue, and sustainability," Ms. Fernández-Craig further noted. Her sessions, "Developing a Fierce Branding Strategy to Jumpstart Your Business" and "Branding Your Business in the Land of Technology" seek to inform, connect and empower women entrepreneurs to thrive.
Hosted by Latina media maven Rashel Díaz, Poderosas ¡Live! will provide access to experts, panels, and workshops in the areas of finance, human resources, leadership, health, and entrepreneurship, as well as one-on-one consultations on how to update resumes for maximum impact and results. Attendees will also have the opportunity to participate in makeovers and hear from some of today's most inspiring celebrities, authors, and influencers, all in Spanish.
To register for Poderosas ¡Live!, visit Poderosas.PeopleEnEspanol.com. 
About Conchie Fernández-Craig
Conchie Fernández-Craig is a business development evangelist, strategic communications expert, and business and proposal writer with multi-million dollar project wins. She was named one of Women's Enterprise magazines' Top WBE (Woman Business Enterprise) CEOs of 2017, a list of visionary business leaders who are dynamically demonstrating the value of women business owners. Conchie is a recent alumnus of Stanford University's Latino Entrepreneurship Initiative, author of an Amazon #1 best-selling novel, "Undrawn," and recently curated "Elefantes Amarillos," a collection of poems and short stories by Spanish author Zoila Castillo.
About CF Creative
CF Creative is a strategic communications, digital marketing and demand generation provider that helps clients to streamline their communications, branding and go-to-market strategies to surpass revenue goals. In 2017, CF Creative was awarded the Minority Marketing and Communications Firm of the Year Award by the U.S. Department of Commerce's Minority Business Development Agency. Per the U.S. Department of Commerce, the award is doled out to "individuals and businesses that make a significant contribution to minority business development and represent the Nation's brightest and most innovative talent. CF Creative's outstanding success in the marketing and communications industry has distinguished Conchie Fernandez-Craig as a leader in supporting minority business enterprises."
Follow Conchie Fernandez-Craig on Twitter
Connect on LinkedIn                      
Source: CF Creative
Share:
---
Categories: Entrepreneurship
Tags: Conchie Fernandez Craig, empresarias Latinas, event, FIU, Florida International University, Latinas, PEOPLE en Español, PEOPLE magazine, Women's business development, women's entrepreneurship
---