The Granite Group Unveils New Logo and Tagline
Press Release
•
May 23, 2022
Features a modernized approach that captures the spirit of The Granite Group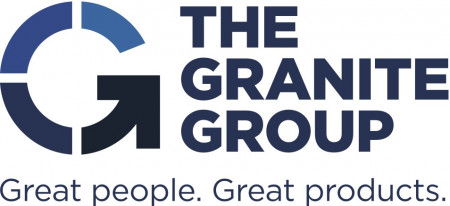 CONCORD, N.H., May 23, 2022 (Newswire.com) - The Granite Group, a leading supplier of plumbing, heating, cooling, piping, water systems and energy products in the Northeast, unveiled a new logo and tagline today. The move modernizes the company's visual identity and amplifies its belief that its people and product assortment are the best in the distribution business. The new logo and tagline replace those first introduced in 1998 and mark a significant evolution in corporate communications.
"The new look and tagline celebrate the company The Granite Group has become over the past 50 years and the teamwork that defines our culture," said Bill Condron, Chief Executive Officer. "Like the people who work here, our new logo is friendly and approachable. The G-element conveys energy and movement, representing the hustle our team brings to the job each day."
The new tagline, "Great people. Great products.," was selected from a list of strong options. The simplicity and sincerity of the message made it the winner. "Our business is built on a foundation that includes products from the best manufacturing partners in the business," said Condron. "And people are our differentiator. Across the company, our people are determined to make our customers' jobs easier and their work lives better. It was important to recognize our team's commitment to each other and to customer service. It's what got us to this point, and it will take us where we want to go."
The Granite Group celebrated 50 years in business last fall, and the new look and line are part of a broader, multi-faceted effort to prepare the company for its next era of growth. The branding changes will be implemented on a rolling basis over the next year as materials are replenished through the normal business cycle.
About The Granite Group
Headquartered in Concord, NH, The Granite Group distributes plumbing, heating, cooling, piping, water systems and energy products to contractors and fuel dealers across the Northeast through over 50 wholesale branches and a best-in-class online store. The company also operates 16 retail showrooms under The Ultimate Bath Store name, offering an expertly trained staff and an extensive array of decorative plumbing fixtures and accessories. Founded in 1971 in Worcester, MA, The Granite Group celebrated its 50-year anniversary last year along with the people who have driven its success. Of all the recognition The Granite Group has received as a business, the workplace awards are the ones for which the company is most proud. For more information, visit thegranitegroup.com.
Contact:
Alicia Criniti (603) 545-3365 / acriniti@thegranitegroup.com
Source: The Granite Group