The Granite Group Announces Workplace Awards in Maine and New Hampshire
Press Release
•
Oct 24, 2022
Reflects The Company's Ongoing Commitment to a People-First Culture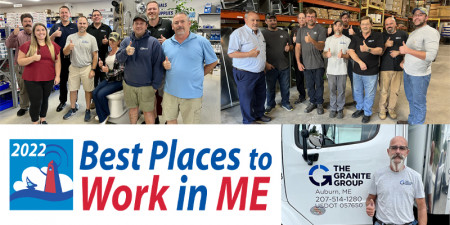 CONCORD, N.H., October 24, 2022 (Newswire.com) - The Granite Group, a leading supplier of plumbing, heating, cooling, piping, water systems, and energy products in the Northeast, has announced that it was recently named one of the 2022 Best Places to Work in Maine. This is the second year in a row that The Granite Group has received this honor. This award comes one month after Business NH Magazine named The Granite Group the 4th Best Company to Work For in New Hampshire.
The 2022 Best Places to Work in Maine awards program is a statewide survey designed to identify, recognize and honor the best places of employment in Maine to benefit the state's economy, its workforce, and businesses. The 2022 Best Places to Work in Maine list is made up of 100 companies in three size categories: 34 small winners (15-49 U.S. employees), 45 medium winners (50-249 U.S. employees), and 21 large winners (250+ U.S. employees). After the survey was completed, The Granite Group finished in 3rd place among the large company winners.
The final Maine rankings were released in the Oct. 17 edition of Mainebiz Magazine.
Announced in the September 2022 issue of Business NH Magazine, The Granite Group's "Best Companies To Work For" 4th place overall ranking is its highest ever and marks the 4th consecutive year the company has made the list.
"Putting our people first is at the center of our culture, and it always will be. Because of this, the goal, from the executive level down, is to empower every member of our team with the tools they need to grow and thrive. Winning these Maine and New Hampshire workplace awards, for multiple years in a row, is a very proud reflection of our commitment to our people. The added bonus is that when we are honored with any workplace award, it gives us an opportunity to shine a spotlight on our incredible team across New England. We could not be prouder of them and the tremendous pride they take in their jobs and being part of every community we serve," said Tracie Sponenberg, The Granite Group's Chief People Officer.
About The Granite Group
Headquartered in Concord, NH, The Granite Group distributes plumbing, heating, cooling, piping, water systems, and energy products to contractors and fuel dealers across New England through 52 wholesale branches and a best-in-class online store. The company also operates 15 retail showrooms under The Ultimate Bath Store name, offering an expertly-trained staff and an extensive array of decorative plumbing fixtures and accessories. Founded in 1971 in Worcester, MA, The Granite Group celebrated its 50th anniversary in 2021 alongside the exceptional people who have driven its success. Of all the recognition The Granite Group has received as a business, the workplace awards are the ones for which the company is most proud. For more information, visit thegranitegroup.com.
Source: The Granite Group