The Game Developers Conference (GDC) is Powering Up Its Tech Game With Their First True Hybrid Event by Partnering With Eventuall and StageConnect
Press Release
•
Mar 22, 2022
GDC Commences this week, March 21-25, 2022!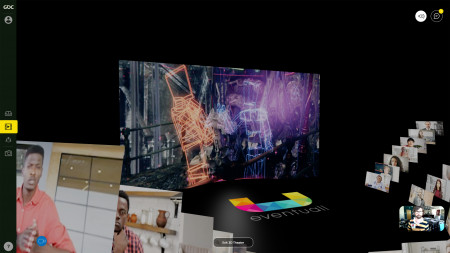 SAN FRANCISCO, March 22, 2022 (Newswire.com) - In its post-pandemic return, the Game Developers Conference (GDC) is powering up its tech game and taking their premier conference to the next level by partnering with Eventuall and StageConnect to deliver an exceptional hybrid experience for the gaming development industry.
On Wednesday, March 23, attendees near and far will gather in the Moscone Center's Main Stage for GDC's keynote. But virtual participants won't merely join through Zoom; rather, they'll mingle with their in-person colleagues thanks to Eventuall's immersive virtual venue developed for GDC.
Here, remote audiences across the globe can mix with live speakers and guests by appearing on-screen in an interactive video wall powered by StageConnect. What about those who want to watch the keynote shoulder-to-shoulder with other virtual attendees? No problem. They can easily join a first-of-its-kind 3D theater where they control how they view the show and chat with fellow online watchers — a signature feature of Eventuall.
Eventuall CEO Scott Addison Clay says, "The game development community has always combined technical innovation with awesome user experiences. With Eventuall we have a similar aim, to bring cutting-edge tech that genuinely connects both virtual and on-site attendees. Our goal is to make this the first truly global hybrid GDC."
"There is nowhere more appropriate to launch one of the world's first hybrid global conferences than the Game Developers Conference. We are excited to set the standard with GDC and what's to come in subsequent years," says Cole Morgan, StageConnect CEO.
With this innovative hybrid model, all attendees still get to enjoy other big benefits of going to conferences — networking and souvenir photo ops. With Eventuall's dedicated Networking Room, anyone on a computer at home or on-site can seamlessly move from one interest group to the next or form new circles to discuss what's ticking at GDC via video conversation Tuesday through Thursday morning between 9-10 AM PST.
For press access to the virtual venue during GDC, please contact eventinquiries@eventuall.ai.
About the Parties
GDC and Informa Tech are boldly leading the charge into a hybrid future where they are expanding the reach of their premiere conference, allowing global developers to connect to each other and content in real-time no matter their time zone. Register or contact at gdccon.com
Eventuall® is the premiere solution for hosting enviable virtual and hybrid events. Eventuall's sleek, flexible, and user-friendly platform powers highly-interactive experiences for global brands and consumers. Learn more at Eventuall.ai
Contact:
StageConnect makes audience interaction software that lets on-stage presenters or performers see, hear, and interact with members of a remote audience during live events, such as concerts, conferences, seminars, and award shows. Through StageConnect, event production and AV professionals have the production-grade software they need to orchestrate these real-time exchanges within existing live-event workflows. Learn more at StageConnect.co.
Contact:
Source: StageConnect