StageConnect Inc. Redefines Front Row Seats for Virtual Event Attendees; Announces Launch of StageConnect Pro
Press Release
•
Oct 22, 2021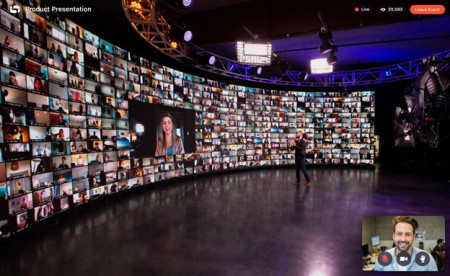 NASHUA, N.H., October 22, 2021 (Newswire.com) - StageConnect Inc., an emerging player in the event and video streaming technology market, is redefining what it means to have front row seats at a concert, conference or other live event. Today the company is announcing the release of StageConnect Pro, its interactive event wall software.
StageConnect Pro allows up to a million remote attendees to participate in live events and to directly engage the presenter via an on-stage screen with full two-way functionality. StageConnect Pro is compatible with popular virtual event platforms. With the release of StageConnect Pro, the company is poised to be a leading provider of virtual interactive software to the events industry.
Cole Morgan, StageConnect founder and CEO, described how the concept for StageConnect Pro was born last year and was accelerated just two months later when COVID hit. "The pandemic didn't just change the events industry, it shattered the core premise of live events themselves - gatherings of people in a physical location for some purpose. Our team saw an opportunity to reconnect people and boost the value of events by enabling remote audiences to engage interactively with presenters on stage or in the studio. We've since realized that being on stage and interactive may be even more interesting and valuable than those coveted front-row seats of the past. Today, we are proud to announce the general availability release of StageConnect Pro."
Co-founder Matt Murphy, an Emmy® award-winning producer, spent much of the past 18 months working with major presenters to help get them back in front of their audiences. "We spent millions building virtual studios and discovering new ways to connect presenters with their audiences. What emerged was a new virtual interactive format - full audio and video, with presenters surrounded by their audiences and communicating with them in real-time. This concept proved addicting for everyone involved. It's more fun and exciting for the audience than simply sitting in a crowd, and it's more engaging for presenters because they can interact directly with individual audience members."
According to Morgan, "We did a soft launch this Spring to key selected companies to get their reaction. They immediately saw how it can make virtual and hybrid events as compelling as live events. One new customer said, 'Hybrid events are here to stay because they dramatically expand audience reach and are more cost-effective than live events. With StageConnect Pro, creative event planners now have the tools to make the hybrid event experience just as compelling.' We've already signed contracts with a leading business and personal development speaker, one of the largest event production companies in Chicago, and a top Hollywood event platform."
StageConnect's mission is to free ideas from the constraints of location by putting production-grade interactive video software in the hands of event industry professionals. To request product demonstrations, pricing, specifications or to book events contact hello@stageconnect.com or visit www.stageconnect.co.
Source: StageConnect Inc.