"The Future of Reality" Partnered Warner Bros. Techies & Exceptional Minds
Press Release
•
updated: Jan 24, 2017
VR event played to a full house of studio employees at Warner Bros. with special appearance by Atari co-founder Nolan Bushnell and two young adults on the autism spectrum from Exceptional Minds.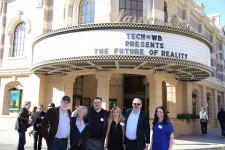 Burbank, California, January 24, 2017 (Newswire.com) - ​It was a meeting of the minds last week when more than 500 employees from Warner Bros. came together to learn about, and be inspired by, the future of reality in the technical space. Also in attendance were a few Exceptional Minds visual effects artists on the autism spectrum, who were there to explore the latest in augmented and virtual reality.
"The Future of Reality" event held on the Warner Bros. lot in Burbank featured several studio executive speakers and Nancy Bennett from Two Bit Circus, and marked the beginning of a unique partnership between the Exceptional Minds vocational school and studio for young adults with autism and TECH@WB, which organized the event. TECH@WB, a Warner Bros. Business Resource Group, is the studio's first employee-run collective of technical professionals focused on emerging technology.
Magic happens here.

Xavier Romo, Student, Exceptional Minds vocational school for young adults on the autism spectrum
"Creativity and technology will forever be woven together, and I believe it's all of our jobs to have an awareness of what is happening in the industry in terms of technology and to help integrate that technology into our skill set. I also believe that it is far more fun to learn in groups and discuss what we like and don't like about technology together," commented Gina Cavalier, the Founder and Board Co-Chair of TECH@WB, which chose Exceptional Minds as its charitable partner and as an important member of its all-inclusive technology community.
Started in 2011, Exceptional Minds is the only nonprofit vocational school and working studio for young adults with autism who are pursuing careers in visual effects and animation in the entertainment industry. In addition to providing funding, TECH@WB offers Exceptional Minds students and graduates an opportunity to be part of an important brain trust focusing on the emerging technologies that will affect the future of entertainment, including virtual reality, visual effects, sustainable film-making, and sound and camera advances.
The first of several events to come, "The Future of Reality" was hosted by TECH@WB and featured several senior executives from the company. Also in attendance was special guest Nolan Bushnell, the video-game pioneer who co-founded Atari and recently launched virtual reality company Modal VR. TECH@WB members and others crowded into the Warner Bros. Steven J. Ross screening theater to watch studio leaders demonstrate VR firsthand. In the crowd were Exceptional Minds students Xavier Romo and Isaiah Strum.
"Magic happens here (Warner Bros.)," enthused Xavier Romo, who is currently in his second year at Exceptional Minds and is preparing for a career as a visual effects artist. Both Xavier and Isaiah will graduate in 2018 with a working understanding of the industry, thanks in part to TECH@WB employee members. "Support from the working community such as this is so important to our students. We can't thank the employees at Warner Bros. enough for recognizing the talent in our young men and women, and for being a part of their development," said Susan Zwerman, Exceptional Minds' Studio Executive Producer.
Exceptional Minds graduates have gone on to successful careers with major studios and have worked on visual effects for high-profile productions, such as the blockbuster Doctor Strange, as paid contractors in the Exceptional Minds Studio co-located with the school. Exceptional Minds visual artists have also created original animations for productions such as Sesame Street's autism initiative Sesame Street and Autism: See Amazing in All Children, for which they were nominated for a daytime Emmy Award®.
Each year, 50,000 children with autism in the U.S. will turn 18 and require public services if they are not employed. Exceptional Minds provides customized education in the digital arts to over 225 teens and young adults and provides ongoing job placement and coaching for 25 graduates.
Source: Grassroots Communications
Related Media
Additional Links