'Atypical' Mural by Exceptional Minds With Autism Kicks Off Season Three
Press Release
•
updated: Nov 1, 2019
Season three of Atypical continues 19-year-old Sam's journey to adulthood as he goes on to art school and searches for independence, which strikes a familiar chord for the Exceptional Minds artists on the spectrum.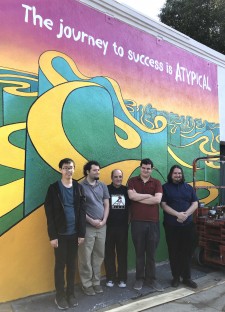 LOS ANGELES, November 1, 2019 (Newswire.com) - ​​​Netflix's hit show "Atypical" begins its third season today with a new mural in downtown Los Angeles, designed by the artists at Exceptional Minds, a nonprofit professional training academy and studio for individuals on the autism spectrum who are pursuing careers in animation and visual effects.
The mural is located in Los Feliz, Los Angeles. It shows a colorful ribbon of a yellow winding road on a green landscape. Written on the top of the mural is the show's theme for the new season, "The Journey to Success is Atypical."
This is the latest "Atypical" project for Exceptional Minds artists, who provided visual effects cleanup for season one and an animated sequence for season two of the true-to-life show featuring a teen on the autism spectrum.
Season three of "Atypical" continues 19-year-old Sam's journey to adulthood as he goes on to art school and searches for independence, which strikes a familiar chord for many of the artists at Exceptional Minds.
"The concept of the winding road came to me as soon as they told me the tagline. I know that, in my own personal experience, I've gone through a number of different avenues to find out what success means to me," commented Exceptional Minds artist David Miles, who conceived and designed the mural with art direction by Jacob Lenard, illustration by Andrew Turney, and additional artwork by Michael Shiu – under the creative direction of Exceptional Minds' Howie Hoffman. All four are artists with autism who have graduated from Exceptional Minds academy and now work in the Exceptional Minds animation studio. Alan Bodner, a renowned Emmy-award winning animation art director, was a color consultant to the artists on the project. "After having made Sam's sketchbook come to life for the second season of Atypical, we were thrilled to do artwork for Season 3," commented Hoffman.
Exceptional Minds training academy opened its doors in 2011 and, in 2014, added a professional visual effects studio and later added an animation studio to bring in contract work for graduates of its three-year program. The Exceptional Minds VFX studio has completed more than 200 projects for movies and television shows, including Spider-Man: Far from Home and Avengers: Endgame as well as Oscar-nominated movies Avengers: Infinity War, Black Panther, First Man, Green Book, and Solo: A Star Wars Story, plus notable TV shows such as Game of Thrones and The Good Doctor. The Exceptional Minds animation studio of professional artists on the spectrum has completed projects for Sesame Workshop, Los Angeles Zoo, Special Olympics, Jane Seymour's Open Hearts Foundation, CBS TV, and NPR composer BJ Leiderman.
Source: Exceptional Minds