The Future of Economic Development is Being Transformed by Emerging Technology
Futurist speaker and consultant Simon J. Anderson to join fellow speakers Sen. Angus King and Rana Foroohar, author and global business columnist, at the "Transformation of a Region," event in Eastern Maine on Oct 16th. He will address business and education leaders on the trends and technologies transforming their region, and how they can spot the opportunities these changes create.
Press Release
-
updated: Oct 5, 2017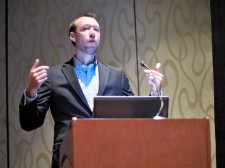 BANGOR, Maine, October 5, 2017 (Newswire.com) -  Thought-provoking keynote speaker, award-winning author, and emerging trends and technologies consultant Simon J. Anderson will be sharing his insights on the near-future possibilities for organizations and industries in Eastern Maine with local business and education leaders there. His presentation will bring attention to important trends and technologies that are reshaping the region and how we do business in the future, and will provide new approaches to anticipating the opportunities and challenges that these advancements might create. 
Topics to be covered in Mr. Anderson's presentation include advancements in automation, retail trends, generational trends, workforce and workplace trends, and disruptive new technologies such as autonomous vehicles and the blockchain. Lastly, attendees will learn specific actions and next steps that they can take right away to be more future-resilient. 
As a futurist, Mr. Anderson's work is focused on helping leaders recognize the opportunities created by rapid change, before they become challenges. He has shared his compelling message with clients in a wide variety of industries and locations, recently including Tata Communications (headquartered in Mumbai, India), the Michigan Banker's Association, the Florida Educational Facilities Planners Association, the Georgia Telecommunications Association, the Maryland Association of Counties, Comm-Works in Minnesota, Fidelity Bank in Massachusetts, and Drucker & Falk in Virginia.  
Parties interested in learning more about Futurist Speaker Simon J. Anderson, his book "Foresight 20/20" (ISBN: 978-1592988945), his blog, or his speaking availability are encouraged to visit his website at https://simonspeaks.com
Source: Venture Foresight, LLC
---
Categories: Transportation and Logistics, Economy, Manufacturing, Retail
Tags: Economic Development, Emerging Technology, Foresight, Futurist, Maine, Simon J. Anderson, Speaker, Trends
---