Can Your Industry Thrive in Our Fast-Changing Future?
Award-winning author and strategic foresight consultant Simon J. Anderson shared his research and insights at events in four cities and four industries this month.
Press Release
-
updated: Apr 30, 2018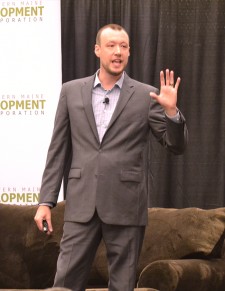 MINNEAPOLIS, April 30, 2018 (Newswire.com) - International keynote speaker and emerging trends and technologies consultant Simon J. Anderson spoke at four events this month, beginning in Howey-in-the-Hills, FL, where he discussed the future of heating and cooling for Carrier and Bryant factory authorized dealers.
In that keynote, Anderson brought attention to how emerging trends and new technological advancements are creating exciting opportunities for those working in the HVAC industry, but how they also might also present some unexpected challenges. To help attendees see the future from a different perspective, he asked questions such as, "How are "Digital Natives" (those raised with the internet and mobile devices) changing how we buy and sell?" and "How can Carrier and Bryant dealers keep up with the ever-expanding number of smart home devices and sensors?"
Anderson next traveled to Palm Beach, FL to discuss manufacturing trends in his keynote at the annual National Association of Graphic and Product Identification Manufacturers conference. He then gave the opening keynote at the 54th Annual International Associated Schools of Construction Conference in St. Paul, MN. There he talked about how emerging adaptive learning platforms could transform how students learn in and out of the classroom, and how advancements in artificial intelligence are improving worker safety on job sites around the world.
Anderson finished his month with an opening keynote for executives at a global leader in precision metals in Nashville, TN, where he used rapid advancements in 3D printed metal and new materials to illustrate how fast the world is changing.
Anderson says: "Virtually all industries today are being transformed by exponential advancements in technology, and every one of our lives will be impacted by the changes these technologies bring. My role as a futurist is to a help industry leaders recognize opportunities created by these advancements and take action to not just survive, but to thrive in our fast-changing future."
Specific trends and technologies Anderson addressed in his presentations this month include recent advancements in artificial intelligence-powered automation; the potential impact of autonomous vehicles; new augmented reality devices that can vastly improve training and on-the-job performance; 5G networks and their impact on the internet of things; interconnected smart homes and buildings, emerging blockchain technologies and their potential applications to the supply chain and equipment monitoring; and how workplace trends could change where and when we work.
However, just bringing attention to these changes and anticipating possibilities isn't enough to be future-ready. What actions can leaders today take to better navigate our fast-changing future? Anderson closed each of his presentations with specific next steps that they can take right away, including the benefits of scheduling a "Future 15" each week. He defines a "Future 15" as setting aside fifteen minutes each week to learn about new technologies and trends, and then anticipate the impacts they might have on your business or industry.
As a futurist, Anderson is focused on helping leaders recognize the opportunities created by rapid change. He has shared his compelling message with clients in a wide variety of industries and locations, including a live webinar for executives on five continents for Tata Communications (headquartered in Mumbai), the International Factoring Association in Hawaii, AT&T, the Eastern Maine Development Corporation, the Michigan Banker's Association, the Florida Educational Facilities Planners Association, the Georgia Telecommunications Association, the Maryland Association of Counties, Fidelity Bank in Massachusetts, and Drucker & Falk in Virginia.
Anderson's upcoming book, tentatively titled "The Future-Ready Professional: How to Create Value In Our Fast-Changing World," is focused on helping individuals compete and win in their careers in a world of increasing automation and a rapidly changing job market.
To learn more about Anderson, his book "Foresight 20/20" (ISBN: 978-1592988945), his blog, or his speaking availability, please visit his website at SimonSpeaks.com.
Source: Simon J. Anderson & Venture Foresight
Share:
---
Categories: Conventions, Trade Shows, Meetings and Events
Tags: Automation, Construction, Education, Emerging Technology, HVAC, Keynote, Manufacturing, Simon J. Anderson, Workforce
---